Fear is one of the basic emotions that springs automatically from a threat. It can be a real threat or a symbolic threat. A lion charging at you is a real threat. The story about a lion charging creates a symbolic threat. Our heart races in both cases. Evolution has equipped us with a fear mechanism that is triggered in circumstances where the risk of our survival is at stake. For a couple of hundred thousand years it served the purpose of focusing our attention on the threat and escaping the threat. The old proverb that says fear is your friend has a large element of truth.
We don't do a very good job of processing modern reality where the threats are new and novel. Fear like most emotions makes for an automatic, unthinking reaction. We think fast when threatened. In the case of the charging lion that is a good thing. In modern cities the chances of being attacked by a lion are small. But the chances of being run over by a bus, car or truck are much higher. But we don't fear them. And that is a problem. I have been in Melbourne recently and have used the tram system.
Yarra Tram in Melbourne
I noticed signs on platforms with a "Banksy-like" image of a Rhino on what looks like a skate board. (Actually Banksy used rats but his motive wasn't to stop people from being run over by trams in Melbourne). There is a larger sign on the side of a tram depot with has the rhino ballooned up in size and with the 'word' rhino translated into a couple of dozen foreign languages.
The sign informs us that a Tram is 30 times the size of a Rhino and you should be careful crossing Tram tracks because one of those enormous rhino's in the form of a tram might run you down.
Later I found the "Beware the Rhino" advert made by the Yarra trams on YouTube. It certainly brings the scary 30 Rhinos message to life:
There's also "Beware the Rhino" facebook page which has some 3,000 likes.
I thought about the message. BEWARE THE RHINO. FEAR THE TRAMS. The government in Melbourne has gone into the fear creation business in order to provide safety to its citizens. I suspected that years ago there must have been a number of accidents involving people being run down by trams and some bright spark said that people were oblivious to the dangers of the slowly lumbering trams. (A quick research revealed that the Beware the Rhino campaign started in May 2011. It was aimed at tackling car to tram accidents.)
How can we get people's attention so they will focus on trams when they crossed a street in Melbourne? That must have led to the inevitable series of committee meetings and public hearings, and inevitably quite a lot of money paid to an advertising agency However it happened, finally someone must have asked what are we afraid of, what ignites the fires of fear and alerts us that we might be eaten? No doubt the reply was that trams don't eat people. That is the point. Rhinos as far as I know don't eat people either. The room must have been jumping as to creatures that cause us to be fearful: rats, cobras, cockroaches, elephants, lions, tigers, water buffalo. No doubt there were divisions and disagreements over the appropriate animal to strike fear into the citizens of Melbourne as well as tourists coming to the city for the first time.
Whatever political dealing went on behind closed doors, we know that ultimately those in support of the rhino prevailed as it is on every warning sign in the complex and extensive tram system.
Whether it has reduced accidents as intended is not readily clear, but the campaign has certainly achieved a notable recognition as far as advertisement campaigns go. It has won "Postcard of the Year" award for 2011-2012.
The Melbourne tram rhino got me thinking about the role of government in the fear business. Whether we like it or not, governments have two major fear related policy tools. In the case of the Melbourne tram rhino, the government manufactures fear. They take an activity, a situation or an event which they believe may cause harm because citizens have not evolved a fear reaction. In these circumstances, the government's policy is to artificially create a fear by association. Trams = 30 Rhinos. You wouldn't want to ignore a rhino on the streets of Melbourne, would you? Of course not, then you certainly would want to pay attention to a machine 30 times as powerful as a rhino that is on the streets daily, rushing up and down like a charging wild animal.
How do you feel about having the government manipulate your emotions? To manufacture your fear button even though it is for your own protection, safety and welfare? The answer is governments, pundits and private corporations do this all of the time. We become immune to fear creation. We fear our health will suffer if we don't take vitamins though the scientific evidence is inclusively whether your daily dose of vitamins actually does anything to protect our health and extend our longevity. Pundits in the political election season pump up the fear of their audience: elect Mr. Brown to office and you will lose your right to carry an assault weapon. That means you can no longer protect yourself, your family and friends against the Rhino like crazies who threat you on the street. At night.

There is a second aspect to the fear business in politics: it is fear containment.

Unlike the first case where there is no natural fear and one must be manufactured, in the second case fear is irrational, and cascades through the population, and citizens demand protection. The bird flu or other contagious disease quickly spread through an Internet connected population. Governments react swiftly with vaccines, quarantines, closing schools, and providing medical advice. In this mode, the government is seeking to contain fear as generalized fear running out of control is as dangerous as the problem that ignited the fear in the first place. Public safety has always been a powerful political tool to gain votes and to cast an opponent in a negative light. No politician wants to be labelled as soft on crime.

The shoe bomber is a classic case of fear containment. One man with homemade explosives in his shoes resulted in fear contagion that governments contained by restricting civil liberties of citizens. In the name of containing this fear of a shoe bomber, plane passengers by the millions remove their shoes, their belts, empty their pockets, walk through a metal detector or x-ray machine. By containing fear, governments have found a way to increase their authority and power over citizens. As far as I know, no one in government produces an annual report listing the number of shoe bombs discovered in the shoes of millions of airline passengers. One suspects they have found none. If they'd found even a single shoe bomb, that fact would have been revealed to indicate people should remain fearful and the containment policies were working. We are suckers for fear containment because it seems so reasonable to buy into at the time, and so difficult to unwind when most people agree that making and enforcing government policy based on an irrational emotion isn't in the best long term interests of citizens.

Once people look to the government to contain irrational fears, they create a monster that is more fearful that the original event that generated the initial fear that cascaded through the population. How does anyone unwind a fear containment policy once it has been funded, people hired, institutions created and inertia settle in? If you have the answer to this question, please let me know. This is a modern problem. We end up fearing the wrong things, events, and people and we pay a high price for our irrationality.

Returning to the fear creation side, we can understand the role of government is once again being pitched as falling into the public safety category. Are the rhino signs in Melbourne effective? Has anyone done a comparative study with other tram systems that lack such signs or may be use a giant spider rather than a rhino to make people fearful? Because citizens don't think much about the sign, perhaps it works on an unconscious level. We process the rhino in a part of our brain that makes us instinctively more alert to the danger of stepping in front of trams.

I've been told the authorities in Melbourne are considering increasing the security on tram platforms at night. Apparently the evidence indicates that a tram rider is at greater risk of an assault during daylight hours than at night. But if we know one thing as crime fiction writers, it is that night is noir, and night is dark, our vision is compromised, there are rhinos in those shadows. So even though the best allocation of resources to protect public safety and welfare would be to increase security during the day, that is too rational. Our irrational mind ignores the actual evidence, and falls back on the primitive instinct that the night is always much more dangerous than the day. That's why we invented fire. And that is probably why the authorities in Melbourne will ramp up the security at night even though they know the actual benefit will be less.

...
Read More>>

Subscribe to this feed • Save to del.icio.us • View CC license • Email this • Email the author • Add to del.icio.us • Digg This! • Share on Facebook • Discuss on Newsvine • Add to Mixx! • Twitter
| | |
| --- | --- |
| Posted: 2/7/2013 7:52:39 PM | |
Apophenia sounds like the name of a band from Macedonia sent to perform at the annual Euro Song Contest. The term was coined by Klaus Conrad in 1958 to describe a psychological state of a person who spontaneously made connections between unrelated events, people, object and infused that connection with a powerful, abnormal meaning. Apophenia began as a term to characterize a type of mental illness.
Over the years the definition of apophenia has broaden from a specialized medical condition to be used as a more general description of the mental states of gamblers, paranormal believers, religious believers, conspiracy theorists, lotus and mushroom eaters. The underlying impulse is the search for causation. It is difficult for a person to accept that randomness kicks out all kinds of events that aren't casually connected. Promise a casual connection and you'll find an audience for the connectedness you are pedaling. Politicians and economists exploit this mental need daily.
In Thailand, when someone famous is killed in a car crash. Thousands of people will buy a lottery number based on the number of the registration plate on the crashed car of death. Apophenia. Parliament is opened after consulting astrologers or monks (or both) for the auspicious time for the opening. Or a new cabinet minister wishes to arrive at the office at the most auspicious time to start his job. Apophenia. Thai culture is no different from most cultures. Cultures around the world, politicians, pundits and priests tell stories riddled with apophenia. It is a behavior so ingrained that we no longer see it for what it is.
And of course, apophenia is necessary condition state of mind for writers of fiction (and non-fiction). A mild case of apophenia is a novelist's secret weapon that brings readers and literary success. We spend our working days seeing spontaneous connections between unconnected events, people, and lives, and weaving meaning into those connections.
We experience a scene, a smell, a sound or a taste and our automatic impulse is to fill the patter into a story. Think of the last time you were on a train at 10.30 p.m. in a major city. The rush hour has flushed down that the time drain. People on the train that time of night are different from the rush hour crowd. Have you looked around and thought about possible connections among the strangers riding in the same carriage?
There's a middle-aged woman holding a boutique of flowers leaning in a space near the door. She could sit down as there are empty seats. But she stands with her flowers. Across from her is an older man. They are likely strangers. But you see a connection. They have matching gold bands on the third finger of their left hand. You suddenly tell yourself they are married. They are poor. They don't have a car. They've been out celebrating a wedding anniversary but it didn't go well. They had an argument and aren't talking. He gave her flowers earlier, and now they are a mockery of the silence between. That's apophenia. They are actually strangers. They've never met. They will never meet. Except in your mind.
Seated down the car are three workers in matching light blue uniforms with dark blue collars. There is a company logo over the front right pocket. The three women are in their late twenties. Two of the women are slightly overweight. They sit together. The third woman, who is prettier, sits four seats away between a retired man and a teenager with a New York Yankees T-shirt. They are going home from work. They are office cleaners. The two women sitting together have received pink slips from the company. This is their last day. The money in their pocket is all the money they have. The woman sitting apart has kept her job. The two women who have been laid off believe she has been giving sexual favors and that is why she has been kept on. In fact, when the three got on the train, there were not three empty seats together. They were separated not by choice but by availability. They haven't been fired. It is another workday, and they will be back on the job tomorrow.
That is a simple train ride. Someone with apophenia makes these spontaneous connections throughout the day, in every setting, and out of all the unrelated people, events and objects that she has experienced. If your mind automatically switches into this method of assembly of people and events to tell a story, then you have the right mental stuff to be a writer.
There is a bit of insanity in a writer. Normal people—meaning those who rarely write out of imagination (except for expense account vouchers) live in a different mental world. One separated by how one goes about interpreting patterns, meaning, and purpose from ideas, thoughts, images, objects, the driftwood of materials that lands on our beach each day.
Apophenia is our brain trying to make sense out of unrelatedness of things and people we experience. We recoil from randomness and chaos. We don't go around telling ourselves there is a pattern in everything, and that, if one peers long enough, there is a connection of meaning. But our behavior suggests that we don't have much free will to do anything but continue to make such connections. What appears to be 'noise' in the system is merely an invitation to an artist to interpret the 'noise' as have a relationship among the parts and those parts put into a whole suddenly are meaningful.
Most people can't resist being seduced by such connections.
People who claim to see images of religious figure in a toasted cheese sandwich or in clouds are an example of apophenia. It isn't only religious people who suffer from this condition. So do gamblers who see connections that aren't there. Astrologers, mystics, drug users, and others occupy a world where the lego bricks of reality are all around them and they spend their time assembling castles in the sky.
Films like the Twelve Monkeys and The Matrix tap into our inner desire to embrace apophenia. Blue pill, red pill choices of how much apophenia you can handle is an enduring metaphor of The Matrix. Films like these tapped into that apophenia that lurks below the surface in many people, drawing connections between all kinds of unrelated persons, events, and places with patches of non-linearly woven into the fabric of the story. Philip K. Dick, the science fiction author, took drugs, which he claimed opened a gateway to a secret knowledge or insight into an underlying, unseen casual agent that connected everything, fleshing out a deeper meaning. He also thought that he saw a stream of gold light radiated from a fish necklace. Drugs. Did I mention, Philip K. Dick linked this vision with the drugs he'd taken?
Mystics and religious figures take apophenia to the logical extreme—all of the world is information and all of that information is interconnected. Seeing this unified oneness is enlightenment.
An epiphany is making a connection between two unrelated events that illustrate a deeper meaning, and underlying casual connection others have glossed over or ignored. Science has such moments.
A powerful emotional experience can create the need to creatively connect that experience with unrelated events. Kurt Vonnegut's novels are an example. During WWII Vonnegut had been a prisoner of war in Dresden. He was in the city when Allied bombers fire bombed it turning "the cellars where 135,000 Hansels and Gretels had been baked like gingerbread men." Slaughterhouse Five was his way of connecting the unconnected into a meaningful story of massacre. Other novels danced around that event, drawing from that experience.
What vests a fiction author with the mantle of credibility over another author who can turn a phrase just as well in the contest to attract the attention of readers? Many factors come into play. But one element does matter when we read a narrative that asks us to believe in the connection between people, events and it can be summarized in three words: "I was there."
I bear witness to the experience. I saw the bodies, experienced the terror, suffering, pain and horror. On the train, I saw the woman holding flowers on her way somewhere. I connected her, the flowers, a stranger across from her into a story. Other people in the train had their faces in their iPhones or iPads, with the connections uniting their world being made online for them in a digital world. The nature of what we mean by 'experience' is evolving from the world of Kurt Vonnegut. We shelf life fire exercises for computer simulated games. Predator aircraft for manned fighters. Slowly we are removing ourselves from the world of first hand experience where all that unrelated, confused, and random bits float, collide, bounce off each other, waiting for someone to connect the dots.
Readers still seek to know the meaning of unrelated things and events. We thrive on clean, cool, compelling connections, ones that give us a sense that our ideas of causation have not been violated. Chaos makes us frightened and lack of casual connectedness frightens us even more. Evolution has wired apophenia into us allowing us a convenient way to experience the world. Even though some of the attributed causation may be false, or the connections turn out to be dubious and phony, apophenia is what gets you through the day and night. Rather than a definition of insanity, at the least in the mild forms, it may be a precondition to remaining sane.
We look to the imagination of an eyewitness to bring us to where he or she stood and we want to know what it was like for the small golden fish to radiate the meaning of the hidden universe where all things are connection in a vast empire of information.
Next time your financial advisor or best friend emails you with a surefire way to make a financial killing, you can reply that you are waiting for the average rainfall in Vancouver in October to correlate with average number of tourist arrivals in Bangkok for the month of December in order to trigger a sell order for your shares in Apple and to execute a buy order in gambling casino business in Cambodia.
After you finish this essay, pick up any newspaper, go to any blog read what the writer has to say, or flip (or scroll) through the book you're reading and give the author a rating on the apophenia on a scale of 1 to 10. Assign a '1' is for no connections of unrelated events or things. Give a '10' for so many such connections and offering a causal bridge linking them all that the person is insane or enlightened. Remember the greater speed in making patterns from data, the higher the IQ. That's right. This is what is tested when given an IQ test. We have a cultural bias that we all buy into—slow pattern-making means a person is mentally less capable, less bright, and less able to pull together, assemble the correct pattern in front of him.
It seems we suffer either way. When a person finds it difficult to draw patterns from unrelated symbols, events, or experiences, means he has a low IQ. But the person who easily finds the underlying causes that spontaneously brings meaning to unrelated things has a high IQ. How effectively you deal with such pattern making determines whether you are crazy, stupid, or on drugs. Finally ask yourself, what rank would you assign to yourself in the way that you connect unrelated events and experience.
After all, one thing is certain: Only you can say "I was there." And only you can also say that in Twelve Monkeys and The Matrix only an imagination created that space. No one was ever 'there' and the Hansels and Gretels gingerbread men are not the same as a 135,000 people who had been incinerated while Vonnegut had survived. The science fiction inside Vonnegut's head didn't spring solely from his imagination; his way of connecting events came from the way things had been connected during his WWII experience. Everything Vonnegut wrote connected back in one way or another to his experience of the firebombing. He had been there. And he took us there with him, connected us to those events through his novels.

(Originally published 25 May 2012)

...
Read More>>

Subscribe to this feed • Save to del.icio.us • View CC license • Email this • Email the author • Add to del.icio.us • Digg This! • Share on Facebook • Discuss on Newsvine • Add to Mixx! • Twitter
| | |
| --- | --- |
| Posted: 1/31/2013 8:02:30 PM | |
What does an author do when he sees a secondhand copy of his book in a bookstore? I have been thinking about this having recently seen a secondhand copy of The Wisdom of Beer.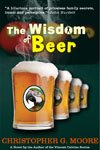 As I can't cover all second hand bookstores, I'd like any reader who finds a copy to feel free to write a dedication in the book on my behalf. I understand that after exhaustive studies, academics have concluded that a book dedicated to a famous person by the author fetches a much higher return on the second hand market.
In a time of bookstore closures worldwide, I'd like to help the bookstore owners increase their revenues. They should encourage customers to form a self-help group to write those special dedications for The Wisdom of Beer (or any other book you might find of mine).
I have a few suggestions for dedications to be inscribed in random, dog-eared copies of The Wisdom of Beer.
I am positive that you will come up with much better material.
The Wisdom of Beer dedication list might include the following:

To my dear friend, Donald Trump,
Thanks for the napkin from A60 Club with your hand-written essay on the Kenyan birth certificate. I am sorry it arrived too late to include the appendix as you suggested. Should The Wisdom of Beer ever be reprinted I will urge the publisher to place it in the new edition.
Former New Yorker, Vincent Calvino

For my personal mentor, Cesar Millan,
Thanks for writing to tell me that The Wisdom of Beer has become the Dog's Whisperer's bible. Sorry your show has been cancelled. But I can't really change the parrot in the book to the Boxer mixed breed. But I appreciate your idea.
Best wishes from me and all of my pack of six, CM

For Lindsay Lohan,
Your probation officer gave asked that I send you The Wisdom of Beer to help keep you out of jail. I am proud to know the book will guide you to a new and better life.
Keep sober, Chris

For Mitt Romney,
You can reject beer or wisdom, but if you throw out both you can't expect the Republics to ever win a majority. Please keep The Wisdom of Beer as an alternative bible to rebuild your shattered life.
Peace, Fairness and Love bring huge dividends, CGM

For Miranda Kerr,
I won't ever forget our night together in Paris. Congrats on being chosen the sexist woman alive for 2012. Of course it is 2013 and you probably won't win again. Still, I hope you will always keep this copy of The Wisdom of Beer to remember our special time together.
Kisses, C.M.

Dear General Secretary of the Communist Party, Xi Jinping,
I know you are new to the job. The Chinese invented beer and I've written the first book ever to bring that accomplishment to the world. You should celebrate with pride this gift to mankind by translating The Wisdom of Beer and requiring every party member to purchase a copy. My publisher promises a volume discount for all orders over one million copies. They also offered to put a red cover on the Chinese edition.
Your Comrade in Suds, C. Moore

Jim Carrey,

You've made "The Cable Guy", "Liar Liar" "Dumb and Dumber" and "Me, Myself & Irene" all quite intellectual films. They were too serious for a true comic genius like your good self and these films may have hurt your A-list ranking. Why not try something to showcase your unique humour like starring in The Wisdom of Beer? The Wisdom of Beer film would give your movie career a needed boost. Face it. You need that. Have a beer.

Fellow Canuck, Chris.G.Moore

...
Read More>>

Subscribe to this feed • Save to del.icio.us • View CC license • Email this • Email the author • Add to del.icio.us • Digg This! • Share on Facebook • Discuss on Newsvine • Add to Mixx! • Twitter
| | |
| --- | --- |
| Posted: 1/24/2013 7:53:39 PM | |
The first reaction to a threat or a possible threat is one of fear or anger. We are emotional by default and once our feeling and intuitions are engaged, our so-called rational mind's duty is to justify the hot emotion that has us sweating and short of breath. When the State is the one creating fear, the emotions are heightened. Isn't the State supposedly the one to protect us against those who would induce fear?
That is the story the State wishes us to believe. The dividing line between States isn't so much democracy and autocratic but between those States which spin a story of protection against outside fear that most people believe is true. We are at heart, all of us, security seekers. That plays to the advantage of the State as the officials rely on the reality that there isn't an alternative. A revolution merely changes those who operate the State and as history shows the new operators are no different than the ones they replaced—in many cases, they become addicted to terror to cow their rivals into submission.
Criminal laws regulate conduct and are the citizens' first line of defense against the 'wrongful' or 'bad' conduct of others. In reality, many criminal laws authorize the State to protect itself against those who would challenge its authority. Broad and imprecise wording—like 'national security'—allow those who enforce the laws broad powers and substantial penalties to charge, convict, and imprison a person whose activity is thought to be a threat to those in power. The threat of prosecution chills the exercise of free speech—stops political discussion. The State uses such power in the age of Internet access to censor what is sent and received by users.
The State is an intangible entity. We rail against an oppressive or abusive 'State'. These emotional outbursts are like taking a swing at a cloud. You never quite connect your feelings with the object perceived to cause those feelings.
The functionaries and officials who make up the State are many. They interact with each other. Some are more powerful than others, and there is an institutional bias or culture that prevails across those institutions as well as legacy traditions and customs within individual agencies. This makes assigning responsibility difficult. Who do you point the finger at when the State acts to criminalize political speech? Or criminalizes conduct that serves the interest of a small but powerful elite that benefit from a cone of secrecy and immunity from criticism?
In the new Orwellian world—everyone is guilty, and those charged are selected through the exercise of prosecutorial discretion to send a message to all the other potentially guilty citizens that they, too, are being watched and are vulnerable. And there is nothing they can do and no one to turn to.
Placed in the situation of being charged and the realization there was little chance of escape is thought to have led Aaron Swartz to commit suicide in New York. He was a 26-year-old computer genius, co-founder of Reddit, who'd been charged for 'freeing' academic data at M.I.T. Since his death there has been a firestorm of protest, questioning, criticism and hand-wringing.
The best piece written on why writers write is George Orwell's essay On Writing 70 years ago.
Orwell said that the subject matter of a book is determined by the age in which the writer lives.
Context is what matters. Look around your space, inside the room where you are reading this essay, when you go out, look around the city. And think for a moment, it wasn't always like this and won't stay like this. But for the moment, the present, this is our context that determines how we think about books, each other, information, security, politicians, guns, drugs, pollution, women, police, and doctors and hospitals. We think of them in the now.
Commentary like this essay, films, books, comments others make online, are collections of our context where we find: social things, cultural things, psychological and political things. We try to make sense of all these signals, picking through the noise. It is hard work. The noise is always far greater than the signal. With the distractions and limited attention we can bring to anything directly in front of us should give us pause. It should give us a sense of humility. We are overwhelmed by the emotional words of others, the details pile up, the ambiguity increases. We hate doubt. We love certainty. One we avoid, the other we embrace.
Those employed by the State understand this bias. To avoid randomness and uncertainty gives the State actors an edge. Officials promise that they can and will remove the dread of doubt and once removed, we will feel safe and happy. The State understands that we are first and foremost emotional creatures. That insight is the source of their broad, vague powers and discretion.
We filter the justification, defenses, words of State officials as they weave a pattern that shows their actions are lawful, correct and in the interest of the State and its citizens. Orwell taught that writers had a duty to challenge these State manufactured patterns, deconstruct them, and offer original, alternative patterns. You can read volumes of Internet commentary taking this road about the official actions of the State in pursuing Aaron Swartz.
The best writers communicate an essence of insight, meaning and purpose. They distinguish between intuition and rationale, objective evidence. To use Daniel Kahneman's distinction, one is automatic, lazy thinking and the other is slow, deliberate thinking. They are connected. The lattice of biases that we all have ultimately shape and distort the way we think about reality.
The best books embody the way people think and feel. A good novel or short story hits an emotional chord in the reader that seems true.
The best books reflect emotional attitudes as people bumped up against the reality found inside the context where we live. The emotions we find floating above us include: Anger, hostility, envy, suspicion, jealousy, suspicion and deception.
Crime novels embrace these negative emotions and fine-tune them into stories where characters seek to escape their context, their destiny, or their moment in history. No matter how fast you write, the book is much slower than the click of a camera shutter, and even at that speed there is a transformation captured and the reality that follows that moment.
Orwell wrote that authors have four reasons or motives to write:
Sheer egoism. The desire to appear clever, talked about, remembered after death. The great mass of people are far less selfish than writers. Serious authors are vain and self-centered.
Aesthetic enthusiasm. Perception of beauty in the patterns found in the exterior word and converted into prose. The firmness of good prose, the rhythm of a good story that carries you along.
Historical impulse. To see things as they are outside of the filters, biases and prejudices that every context presents as barriers to truth.
Political purpose. To use words to push the world in a certain direction—to shape or alter people's idea of the kind of society we live in and whether that society is fundamentally just and fair.
Psychology has advanced a fifth reason Mindset Exploration to identify the connection between our emotional, impulsive, intuitive mind and our deliberate, rationale mind. To understand the interplay between the two aspects of our cognitive resources that create our system beliefs we defend and define the perimeters of our reality.
Our impulses war against one another and change over time, but our beliefs are difficult to shift even when the evidence is clear that what we believe is false or wrong. The Aaron Swartz suicide and background prosecution has ignited a debate about core beliefs about the role of prosecutorial discretion, freedom of speech, the nature of information, who owns it, has access to it, and can use and exploit it.
Context of Aaron Swartz's death engages at the emotional level when the distrust of State actors and their bona fides are in doubt. His death is used to emotionally confirm our worst fears—the State is patrolling the products of our mind and our actions seeking to find violations of laws. And the question being asked is whose interests are being served in such prosecutions?
In The Orwell Brigade, a dozen authors, including Barbara Nadel, Quentin Bates, and Matt Rees who blog on this site, have joined John Burdett, Colin Cotterill, Ruth Dudley Edwards, Mike Lawson, Ernesto Mallo, and Gary Phillips to reclaim the role of telling truth to authority, to examine abuse of power, and to question the false histories and narratives officials use to justify their decisions and policies. The traditional media have retreated to the safety of entertainment and gossip to turn a profit. We have paid a high price for that retreat. One positive legacy of Aaron Swartz's life is this questioning official exercise of power that once was done by journalists, essayists, and novelists has spawn a thousands, if not millions of voices. It is difficult even for the State to shut down, arrest, and lock up all of these people. I suspect they will lie low, wait for the faint breeze of time to blow away the anger. Once that happens the State, through its officials, will slowly creep back and remind us that without them we will live in a State of Fear.

...
Read More>>

Subscribe to this feed • Save to del.icio.us • View CC license • Email this • Email the author • Add to del.icio.us • Digg This! • Share on Facebook • Discuss on Newsvine • Add to Mixx! • Twitter
| | |
| --- | --- |
| Posted: 1/17/2013 7:59:50 PM | |
Everyone author has a muse. Along with painters, composers, dancers, and other performing artists. The muse has a long tradition. The Greeks had many gods and goddesses, but the one writers and artist are most fond of is called the Muse. An artist might be an atheist when it comes to God and religion but the Muse makes the most logical and skeptical of the bunch, into believers as to the intangible forces of creativity and inspiration. Someday when neuroscience decodes consciousness, the neural structure that creates the illusion of the Muse will be discovered. Until that day, we are little ahead of ancient Greece.
The idea of supernatural artistic inspiration had been around long before being co-opted into ancient Greek culture.
The Muses, the personification of knowledge and the arts, especially literature, dance and music, are the nine daughters of Zeus and Mnemosyne (memory personified).
You may recognize the mother, Mnemosyne, as the term 'meme' for that idea that infects the minds of others comes from her name. Mind mental or memory were born from Mnemosyne.

Melpomene

For crime fiction authors, the Muse known as Melpomene was one of the nine daughters and assigned to inspire works of tragedy. Before you set up your home altar next to your computer and call out to your inner Muse, there are a few things to know about Muses—their mother, Melpomene, has a past.

Melpomene is portrayed wearing a tragic mask and the cothurnus, boots traditionally worn by tragic actors. In another version, she holds a knife or club in one hand and the tragic mask in the other. She wears a crown of cypress. Her father was Zeus and her mother Mnemosyne. And if you wanted an inspiration for a lyrical phrase she was the Muse you made offering to.

Words like 'amuse' and 'museum' derive from the original use of Muse. Many ancient writers paid homage to the Muse: Homer, Virgil, Dante, Chaucer, and Shakespeare.

Living in a culture like Thailand where spirits are daily worshipped at small spirit houses scattered throughout the land, and upcountry workers as well as city workers, give offerings; the idea of the Muse is a natural fit. Spirit Houses erected on the premises housing newspapers, publishers, media houses and advertising agencies don't yet display statues of the nine daughters of Zeus and Mnemosyne. But 2013 is young and the meme of Muse hasn't gone viral in Thailand. Finding a Muse to present at Government House and Parliament might 'inspire' if not poetry, some new comedy and tragedy to retire the old tropes people don't find of interest.

I have a theory (or two) about the nature of the Muse. When one of the nine daughters of Mnemosyne and Zeus come to visit, pay attention. What kills creativity is distraction. What ignites the imagination is found through focus and attention that seeks to find a new pattern, a new way of seeing or thinking. That kind of thinking is difficult. It takes lots of resources. You can witness the Muse indirectly when you see a great painting, or theatrical production or read a great book. The result of the best of the arts is the creation of something out of inspiration.

Most of the time, our attention is divided. We have too much on our mind, pulling it this way and the other. We flit from problem to problem, image to image, from the past to the future, like a bird hoping from branch to branch looking for the tree. But the issue isn't limited to the non-stop discontinuous internal mental streaming, we also add to our distraction by the input streaming into our brain from the exterior world. To call on the Muse to visit means a commitment to closing down our random thoughts and to shut out stimulation from the outside world. TV off. Internet off. Phone off. "Do not disturb" sign on the closed door.

Light a candle. Wait for the Muse to deliver the right word, phrase, scene, and image that fit into a narrative flow. That is my other theory about the Muse. It is another way of describing the flow. Musicians, writers, dancers and painters know that space where the notes, words, movements, colors appear as if from another place, and create a narrative force that carries the creator along a path he or she would never have discovered inside a mind cluttered with internal and exterior attention grabbers.

The Flow is the space artists seek to enter and never leave. When I write, I work to find that space because in the Flow all the nine daughters of Zeus and Mnemosyne are manning the oars on a boat that navigates itself around bends, and through rapids, and delivers you to a destination you never would have discovered in a world too full of noise.

...
Read More>>

Subscribe to this feed • Save to del.icio.us • View CC license • Email this • Email the author • Add to del.icio.us • Digg This! • Share on Facebook • Discuss on Newsvine • Add to Mixx! • Twitter
| | |
| --- | --- |
| Posted: 1/10/2013 7:56:43 PM | |
What is it about reading a novel that draws us to a story? The standard list would include: the characterization, the voice, the setting, or the suspense and thrills. I'd like to add to the list: the way the story illustrates the psychological state of fear, the choices made under duress of that emotion, and the consequences of the choice made and the choices that weren't made.
Fear elongates as faith in the security and the protection of the authorities erodes. We live in an age of heightened fear. Partially authorities use fear to grab votes, and to curtail civil liberties. We are pushed in two separate directions: distrust of what the authorities can do to protect us and the willingness to allow the authorities to play to our fears for their own benefit.
We are a product of our times, our age and our culture. The occasional book spans time, the age it was written and the cultural distortions in which the author worked. Would George Orwell have written different kinds of books with a different mindset if instead of being a colonial police official in Burma, he had gone to live in Thailand or Singapore or Saigon and worked as a journalist for twenty-five years? Or Graham Greene who traveled extensively, one wonders a counterfactual life where he stayed in Saigon for years. Or if Nelson Algren had been raised on a farm in Kansas rather than Chicago and his father had been the local mayor and his mother the country judge.
I have lived for 25 years in a political system where officials have fewer restraints on the exercise of their power, fewer inquiries, questioning and criticisms–a soft police state. I thought of this, as once again I was on the back of a motorcycle taxi, which was flagged down and stopped by the police at a two-man ambush T-intersection where Soi 16 and Soi Paisinghtoh meet. The police were interested in the driver. I was the person of interest. I got off the back of the motorcycle, showed a copy of my passport. I was physically searched, made to empty my pockets andsubmit to a pat down. Next the cops opened each compartment of backpack, opening the plastic bag containing my freshly used gym clothes. This happened at 1.45 p.m. in the afternoon.
The police questions: "Do you speak Thai?" (Of course not.) "What your name?" (I give my name.) "Where you go?" (Home—one hundred meters from your ambush point.) "What you do in Thailand?" (I am a retired lawyer (never be a writer)). "Where you live?" (I point up the road.) "Show me your wallet." (I show him my wallet.)
Finally one of the cops asked the motorcycle taxi driver if he knew me. The driver gave a reference: "He live in Thailand a long-time." I'd never seen this driver before but he seemed to know who I was. Based on the testimony of the motorcycle driver I was allowed to leave.
There would have been a time where I found such an arbitrary stop, search and questioning unsettling, upsetting and annoying. After third such incident in less in a year, it has become an ordinary feature of life.
Show me your papers. Right out of an old Bogart movie on the tarmac of some remote airport in North Africa. Police roadblocks are small change in the scheme of things. They are a kind of theatre where the actors know the drama is about fear and money and power.
I've learned a thing or two about all three having survived coups, street fighting and violence, and walked through minefields where villagers had erected bamboo huts. I've seen the aftermath of war in Cambodia and Vietnam not long after the guns had gone silent. I know many others who've seen much, much more than me. But I saw enough to learn a couple of lessons about myself. What I am capable to feeling when fear and power and money rollerblade straight for me. I don't like it. I don't like being afraid. But I put myself in a position where that would inevitably happen.
If I'd stayed a law professor at the University of British Columbia, walking the beaches, skiing at Whistler, buying salmon at Granville Island market, my life and what I wrote about would have gone in a different direction. In the multiverse there is a version of me who never left Vancouver and is still teaching law. That version also writes. But I doubt he writes books set in Southeast Asia, or if he does, they would be very different books from the ones I've written.
The stuff of writing that is worth a second read, I believe comes from writers who have felt the bone chilling sound of gunfire, seen ordinary people panic, wounded, suffering, people without jobs, connections, hungry and homeless people. This is where the rubber connects with the road of life. Not in the office towers or exclusive clubs or shopping malls. Those illusions take away the fear that power and money, our natural enemy, should instinctively make us weary. We believe that we can reach out and cuddle the cute lion. The lesson of literature is a warning that anyone who has been in this context never forgets what emotions flood through the mind.
Nelson Algren was a writer I discovered when I was very young, and like Orwell and Koestler had an influence on the kind of books I read (and ultimately wanted to write). Colin Asher has written an insightful essay "Never a Lovely so Real" about Algren:
(Algren) pressed that refrain throughout his life, at every opportunity he found. The formulation that best captures his intention and method is: 'The hard necessity of bringing the judge on the bench down into the dock has been the peculiar responsibility of the writer in all ages of man.' After his first book, Algren never traded in the idea that the poor are purely victims. Sometimes the accused were guilty, he believed, sometimes innocent, either way their perspective deserved consideration.
Algren like Orwell never sentimentalized the poor. He never looked down on them. He understood how money and power circled around them, caging them, controlling and fearing them at the same time.
The book I remember I read when I was fifteen was The Man with the Golden Arm
. Asher nailed that novel in this passage:

If Golden Arm had a purpose, it was to challenge the idea, then congealing into ideology, that an individual's social value is related to his or her wealth. Its message is that lives lived in the twilight hours, after swing shifts, in the shadows of newly erected towers, or beneath the tracks of the El, are as passionate, as meaningful, as funny and pointless, and as much a part of the American story as any.

What was congealing into ideology has long since dried into hard stone. Where is there a place left where social value isn't calculated in terms of wealth and influence? Those who have no wealth are left out of the story of our time. Algren, Orwell, Koestler and Greene threw a literary lifeline to these people. We live in a time where cutting that lifeline is the business of government, and writing has become an entertainment business. Walking away from a secure university professorship was something a foolish fifteen-year-old boy who'd read The Man with the Golden Arm would do; but not a grown man. At any stage, things could have gone very wrong.

But if I'd stayed in my university office, something I needed to see and do and think about would have never come alive. The theory of the multiverse says we are one among an infinite number of universes, and all possibilities are a reality. That's too much like magical thinking for me to take seriously. False comfort is no comfort. Making a choice in this life means taking a hard look at the cards you hold and then making a bet on yourself. If you are a writer, you shuffle the deck, and deal the hand your characters will hold. Every book is a new game of poker.

But before you write that first sentence you must find the interiority of the main characters. I find my characters in the most unlikely places and most of them live off the radar screen for most people. The best characters in novels are the ones society judge as having no value—and that allows us to put society in the dock to judge it. I am drawn to characters who push beyond the rejection society brings to their every day life, and like characters who face the high wall behind which an army of money and power pulls up the drawbridge. I like characters who don't feel sorry because others regard them as worthless, who don't give up, who keep advancing against the forces assembled to destroy them. I like them because they have more natural dignity and grace than any university professor could ever imagine.

...
Read More>>

Subscribe to this feed • Save to del.icio.us • View CC license • Email this • Email the author • Add to del.icio.us • Digg This! • Share on Facebook • Discuss on Newsvine • Add to Mixx! • Twitter
| | |
| --- | --- |
| Posted: 1/3/2013 7:58:31 PM | |
International Crime Authors Reality Check is written by a group of professional authors who measure their literary work with an authenticity ruler. As 2012 winds down, I'd like to look at the tradition of two authors: George Orwell and Arthur Koestler who have had influence on my own attitudes about what to write about, and matching experience to story and character. The best of noir/political fiction draws upon, in my opinion, the real life experience of an author who has found him/herself a victim of violence or has lived through the aftermath of violence inside a shattered community.
Both Orwell and Koestler's lives were shaped by civil war and world war, and the lessons they learnt from the political front lines has forever carved images of official violence into our collective memory. 1984 and Darkness at Noon are prime examples of noir novels written by authors who had personally witnessed such darkness of the human condition.
In noir fiction, the officials and party functionaries are armed by ideology and guns. The state monopoly of violence is sold by the State as the best solution to protect you against chaos and the violence of your neighbors and strangers. As history shows, there are many examples where such officials use their power not to protect you from lawless forces, but to advance their own interest. The government becomes a racket for those who govern. They block a citizen's passage down the winding, twisting roads of alternative thought and ideas. They erect intellectual tollgates, demanding supplication, loyalty and purity of belief. These attitudes are preconditions to a noir world.
There is no bargaining, compromising, or negotiating inside this noir world. Any response short of total agreement invites those official forces to restrict, intimidate or if need be destroy the dissenter. Both Orwell and Koestler have written the ultimate noir novels. In Darkness at Noon
and 1984
, the loyal insider confesses to a false crime rather than repudiate his belief in the institution and its leaders. A false historical narrative is an extension of voluntary confessions to false crimes. Such confessions lead to death or psychological destruction of the confessor. That is how noir ends. Not with hope but despair.

Who has the credibility to write about false historical narratives? Orwell wrote an essay suggesting it can only be artistically rendered by an author who lived inside the false historical narrative and accepted it for a long period of time as the truth. Only an author with that experience can convey the authenticity of repression, and recreate the actual psychology conditions of people who live and die in such regimes. The outsider, the expat, comes into the new culture of ideology with idealism that can easily turn into a descent into the worst kind of psychological terror.

The Guardian has a review of Arthur Koestler's classic novel: Darkness at Noon.

George Orwell wrote an essay about Koestler in which he spoke about a generation of European writers that wrote 'political' books with the kind of authority that Orwell felt was lacking in English writers.

Orwell wrote in 1941 that these Europeans were "trying to write contemporary history, but UNOFFICIAL history, the kind that is ignored in the text-books and lied about in the newspapers. Also they are all alike in being continental Europeans. It may be an exaggeration, but it cannot be a very great one, to say that whenever a book dealing with totalitarianism appears in this country, and still seems worth reading six months after publication, it is a book translated from some foreign language. English writers, over the past dozen years, have poured forth an enormous spate of political literature, but they have produced almost nothing of aesthetic value, and very little of historical value either."

The subtext is that unless the author has emerged from the context of where totalitarianism is an all-encompassing aspect of their life, having been part of the process that defines the identity and mindset, they are better equipped to communicate the psychological range like an experience bent over his sheet of music reading the score and conducting the symphony.

The central question for Orwell in Darkness at Noon was why the Bolshevik named Rubashov, who had committed no crime, confessed to a false one? The book is a study of the psychology of a true-believer who has for irrational reason been falsely charged with a crime. What would have been in Orwell's view a mere polemic if it had been written by an American or English writer in the hands of Koestler because he has experienced what he's writing about can raise the experience to an aesthetic level.

Experience was something that Koestler could draw upon. He was sent to Spain during the Civil War in the 1930s and was arrested and imprisoned and came very close to being shot. But for the intervention of powerful friends abroad his fate would have death. Like Orwell, who also saw action in the Spanish Civil War, Koestler survived to brush up against death during World War II. He escaped Paris as the Nazis arrived in 1940.

Koestler had written Darkness in Noon in German, leaving the manuscript with Daphne Hardy. She translated the book into English before escaping France herself. Believing a false rumor that Hardy's ship had been sunk, Koestler attempted suicide. His long literary life included encounters with the famous figures from World War II to contemporary times: Thomas Mann, Dylan Thomas, George Orwell, Mary McCarthy, Timothy Leary, Salman Rushdie and Cyril Connolly.

The irony of both 1984 and Darkness at Noon is the anti-hero in both is doomed from the beginning, and it is the struggle against that fate that makes them compelling, timeless, and disturbing. In an age where 'entertainment' is the byword, 'disturbing' political novels are out of favour while books written by authors whose lives are remote from any front line produce books like Fifty Shades of Grey. The growing interest in noir fiction, authentic fiction written by authors who have experienced the crack of the whip not in a sensual setting but in a political one and who know the difference, shows readers have an appetite for political novels that speak to a larger truth when the agents of repression come calling.

...
Read More>>

Subscribe to this feed • Save to del.icio.us • View CC license • Email this • Email the author • Add to del.icio.us • Digg This! • Share on Facebook • Discuss on Newsvine • Add to Mixx! • Twitter
| | |
| --- | --- |
| Posted: 12/27/2012 7:56:28 PM | |
For most people deception comes early on. Around Christmas time millions of children believe that Santa Claus will come to their house and leave gifts from them as rewards for their good behavior in the previous year. It is no surprise that one of the first lessons a child learns is that those most close to them, the ones they trust and feel most secure with, are capable of deception. Christmas and noir become coupled with a child's first introduction to how corruption works as Christmas approaches. Santa Claus expects a reward on his time and investment in terms of milk and cookies. Children leave him an offering. It is the first bribe they pay with the encouragement of their family. Christmas Noir features a fat bearded man with supernatural powers (to get over the speed of light limitations), and he comes dressed in weird clothes, and he judges your record over the past year and bribery is part of the deal.
Christmas Noir doesn't stop with a fat magical warlord and his corrupt practices, it extents to his whole business model. For instance, parents leave out the tiny detail that Santa Claus's so-called elves who work around the clock to make toys for billions of children are likely children slaving inside a sweatshop. The noir reality is the child is accepting gifts from a corrupt sweatshop slaver. Let's don't get started on the animal cruelty in the treatment of reindeer which beaten until they fly and then must land and take off on billions of rooftops all on one night.
The mother and father's deception about Santa Claus can be dressed up as a 'white lie' to preserve childhood innocence and a tradition that is part of the cultural heritage. No matter what dress you put on a horse, it remains a horse. A lie dressed up as culture and tradition can never shed its origin as born in deception.
In the adult world, having served in the front ranks of disillusioned Santa Claus believers, we are nonetheless primed for further deceptions by politicians, conmen, bankers, terrorists, and by friends on Facebook and Twitter. It is a mixed bag and we are on alert for those who deceive, looking for signs and omens, remembering how easily we were duped as a child and swearing not to let that happen again.
The old Santa Claus story reappears despite our early training to spot deceit. Property bubbles, ponzi schemes, Bernie Madoff, Nigerian offers to split offshore loot by a recently deceased general, are among a vast array of criminal activities that depend on the 'fish' taking the bait. And it seems there are enough fish in the sea that even if only a few bite, you can fill the boat with fish jumping into the boat and not waiting for the hook.
One of the functions of the justice system and the political system is to prevent deception. That's why Campbell's soup label can't outright lie about the contents including salt and sugar levels. Medicine, cars, TVs, computers, phones all come with puffing about their superior features, functionality, and usefulness. Placebo in place of a pill with active ingredients is allowed in certain blind studies but the patients are informed that someone of them will be receiving a 'fake' pill.
The laws, police and courts monitor commercial behavior for deception and punish those found guilty of deceitful conduct. Most of the time. While our parents don't go to jail when it is clear they lied about Santa Claus, someone who operates a boiler room and sells worthless shares to your grandmothers are arrested and sentenced to prison. Some of the time.
Governments spend large sums of money seeking to effectively gather information about criminals who use deception to mask the crime, or their trail after committing a crime, or finding how and where they stashed their ill-gotten gains. Every legal system and culture has its own set of ideas about how best to go about detecting the deceivers among us.
The most obvious way to find people committing criminal acts is to catch them in the act. Criminals may be dumb but they aren't altogether stupid. If they believe they are being watched or listened to—the eyes off the police are on them—they are unlikely to commit the theft, mugging, assault, murder or drunk driving. Deception is the art of not getting caught. It is also a cat and mouse game, where each side tries to stay one step ahead of the other. The question is who is winning the deception game? The deceivers who are able to either use deceit to take an unlawful advantage or having committed any crime use deceit to avoid detection.
Below is the picture of a new watchtower on Walking Street in Pattaya: a place of bars, nightclubs, and massage parlors. Thousands of people walk along this street every night of the week. The street is closed to traffic. A vibrant nightlife attracts criminals from pickpockets to drug dealers. These are examples of the kind of criminal activity that depends on deception. The question is whether the police officer in the tower is better at this job that CCTV cameras that feed into a monitoring system watched by the police.

Thai Visa
The watchtower mentality goes back to defending castles. Like moats, watchtowers are defensive instruments to protect mainly against surprise attack. Or in the case of a prison, a surprise escape by prisoners or a surprise visit by friends and family of the prisoners. In any event, using a watchtower to detect street crime has some uphill problems. In a culture of face, perhaps the mere presence of a tower overlooking a street is enough to instill fear in potential criminals that they sleek off to the side streets–out of police sight–and commit the crime.
Another example of watchfulness is the blimp bought for use to fight terrorists in the South of Thailand. As a surveillance system, it has most of the limitation of a watchtower, only it is higher off the ground. In this case, the blimp cost around $10M, and had chronic problems from the start. Meaning it had so many additional accessories it apparently had trouble staying airborne. When those problems appeared to be addressed, in the first flight, the blimp crashed and is in for repairs. The idea behind the blimp was to expose deceptive conduct by would-be terrorists who seek to disguise themselves or their criminal activities on the ground. Instead the focus of attention shifted from terrorists to possible deception in the acquisition of the blimp. Deception, in other words, can be like those Russian dolls. Or it can be a retelling of the Santa Claus story in a novel way.
The final example is the GT200, a device bought by the army to detect landmines hidden along roads in the South of Thailand and set off by remote control as military vehicles passed over them. Like the blimp, the idea was to use high-technology as a means to check deception by terrorists by discovering ambush points where their lethal mines had been set. Only it turned out the army was deceived by the sellers of the GT200 who faced criminal charges in the UK for—I am certain you are ready for this—deception and fraud. The GT200 had the circuitry sophistication of a Barbie doll. There were also allegations about the high purchase price paid for the GT200 devices, i.e., around Baht 1,000,000 per device. What had been bought to detect terrorists didn't work and questions about sourcing, testing and evaluating the device according to transparent standards disappeared from sight and into the general fog that people understand to mean if they know what is good for them they don't ask such questions.

We are left without Santa Claus's heritage, which, like GT200, and the Blimp and the Watchtower, are from an earlier belief system. When the government is our parent we enter the zone where Santa Claus, like Schrödinger's cat is neither dead nor alive. We must first open the box and look inside. This was what George Orwell sought to show as the duty of a writer. Now, however, the duty is not so much to expose official deceit as to entertain and flatter. Because we know that if look really hard and reveal an inconvenient truth that we will likely be in big trouble. No presents for troublemakers. No one wishes to risk being the only one that Santa didn't bring a Christmas present to this year. The only one who made Santa angry and lose face. So our generation goes along with watchtowers, blimps and GT200s believing they actually exist and work for us.

The message from childhood remains the same—you will be judged by a powerful person who runs a sweatshop racket, someone with supernatural power and he expects a bribe. Those who we assume are most responsible for looking after us are the ones who are the mostly likely to deceive us in the end. That makes for a noir Christmas. But it also brings us to a New Year where just maybe we will find George Orwell's courage to use truth to combat lies from the official and corporate world.

...
Read More>>

Subscribe to this feed • Save to del.icio.us • View CC license • Email this • Email the author • Add to del.icio.us • Digg This! • Share on Facebook • Discuss on Newsvine • Add to Mixx! • Twitter
| | |
| --- | --- |
| Posted: 12/20/2012 7:54:05 PM | |
The murky world of criminal has its fair share of morons. In the noir world, criminals are aggressive, sinister, violent and unstable. In the real world there is are all kinds of people who aren't good at their chosen occupation. Some people don't have what it takes to be a criminal.

While 2012 has yet to end, people are drawing up list of the most stupid criminals.

Here are some examples:

The little known defense of claiming to be a Werewolf doesn't work in most jurisdictions.

1. Claim diminished capacity as a result of being involuntarily made a Werewolf in Germany

No one bothered to inform Thomas Stroup of the limitations of such a defense. Ohio police arrested Thomas and charged him for underage drinking. The evidence was reasonably clear. Thomas was passed out in a trailer encircled by swords. Other residents in the trailer park had complained that Thomas started fights and was otherwise a nasty character. When confronted by the police, Stroup said he was sober though admitted his behavior was strange though beyond his control as he'd been scratched by a wolf in Germany. And this wolf like spirit had motivated him to kill the officer's cousin named Keith. Only the officer had no cousin named Keith.

2. The Dude Abides. At home only.

Christopher Jansen was on trial in March in Pontiac, Michigan for drug possession. Young Christopher claimed that he had been searched without a warrant. The DA countered that the arresting officer acted properly without a search warrant as he had probable cause. He saw a "bulge" in Christopher's jacket and thought it might have been a gun. Christopher objected to that conclusion. It turned out he was wearing the same jacket that day in court. He removed the jacket and handed to the judge for inspection. The judge removed a packet of cocaine from the jacket pocket. The judge laughed so hard he needed a five-minute recess to get a grip on his giggles before the trial could resume.

3. Closer to home there are endless examples of foreign tourists who leave their thinking mind at home arrive in Thailand and discover. . . .Like everywhere else there are laws.

If you take a couple of Indian tourists and decide to get drunk, but at some stage they want to have some fun or transportation to the hotel—why, after all it is holiday, do both. So they steal a motorbike owned a taxi driver who worked at a taxi queue in South Pattaya. It seems that Mr. Govind Lal aged 43 and Mr. Varun Kumar Guel aged 28, could pass that motorcycle without noticing the key had been left in the ignition. There is no explanation of what distracted the other motorcycle taxi driver in the queue. The motorcycle owner, Moragort aged 32 admitted his bladder was killing him as he rushed away leaving the key into the ignition to use the toilet. After he returns, his bike is gone.

But with the bamboo telegraph in hyper mode, the missing bike and the two Indians are spotted on Second Road in Pattaya. Friends of Khun Moragort forced the bike to spot and took the two Indians to Pattaya Police Station. The suspects defense was one the local cops had likely many times was they only intended to borrow the motorcycle, have some fun and besides they were far too drunk to have the criminal intent to commit a theft. Khun Moragort, the crime victim, must have been quite upset to hear the Indians prattling a defense reserved only for Thais caught in these circumstances. That is the only explanation for his refusal to accept a financial compensation package by the two suspects. No way these guys were going to pay their way out of justice. The two Indians were remanded for trial.

4. Tourists not only get drunk and commit stupid crimes, when they stay longer than their bankroll, the real fun begins on formulating really stupid plans to replenish their wallets. And what better place to get money than a bank? Why not rip an ATM machine out of the wall, cut it open like a mad, beast and drain out the money? You have now entered the chain of reasoning that makes desperate men into morons. In June, 2012, in Chon Buri, Alexander Milbourn, 25, and Shaun Edward Tracy, 34, had a brilliant plan to attack an ATM at the Bank of Ayudhya's Laem Chabang branch. The local police said the two hit the ATM late night of June 21.

The two Britons groused out a third man, they called Richard (a popular name among British Expats in Pattaya). Richard was on the lamb. One wonders which one of these guys was the ringleader. They've got a map. Or maybe not. They just think on impulse hit the ATMs in Si Racha district, at Bangkok Bank's Bo Win, Bank of Ayudhya's Laem Chabang branch and Bank of Ayudhya's Bo Win branch. There is a slight preference for Bank of Ayudhya ATMs thought the sample is small so it might be just random noise and no pattern is discernable for the name of the bank.

This is where it is gets interesting. If you are going to steal something built into a wall to prevent theft you have to respect that whoever installed the ATM machine would have made it difficult to easily pry lose. Or so you would think. But you're not out of money and desperate in Pattaya like these three Britons. Their plan was to tie a tow sling around the ATM and attach the other end of the sling to their car's bumper. Both ends secure, ATM to car bumper, driver gets in and pushes the accelerator to the floor. It didn't work. In all three attempts, the tow sling failed to pry the ATM lose. One might think after the first failure, the gang might have a rethink of technique. But, no, they tried-second time. By the third time they must have been resigned to touring ATM machines by the thousands in Pattaya in hopes there was at least one that would prove they were right and the first three machines were just flukes of bad luck. What would a reasonable thief do? Change cars. It must be the car's fault.

It also might occur to most people (especially Britons) that banks have significantly more CCTV cameras than tellers and other staff. They are watching you. Not these boys. It took them three failed attempts to get the attention of the police who gradually became aware that someone was attempting to steal ATM machines. The point is the tourists got caught and were probably just as surprised at being arrested as they were when the second and third ATM machines to be ripped out of the wall.

The police have taken into custody, the tow sling, the two car(s) used in the attempted thefts and were still looking for Richard. Personally, I think the Indians handled it much better—with their imaginary friend Richard, they could have claimed they were very drunk and had mistaken the ATM machines for paragliding docking stations and had no idea they had anything to do with banking. It might not have worked any better for the Britons than it had for the Indians. Yet the Thai justice system has a lot of tolerance for drunks. It has very little for sober tourists tying tow slips to their ATM machines.

When you are on holiday, don't commit a crime. If you decide to break that rule, think about how dumb your plan is, borrow the money from mum or dad or a friend, and go back home. Because none of your friends are going to tie a tow sling to her cell bars and clear a path for your freedom.

...
Read More>>

Subscribe to this feed • Save to del.icio.us • View CC license • Email this • Email the author • Add to del.icio.us • Digg This! • Share on Facebook • Discuss on Newsvine • Add to Mixx! • Twitter
| | |
| --- | --- |
| Posted: 12/13/2012 7:46:49 PM | |
On Friday 30th November we launched Phnom Penh Noir at the FCCC in Phnom Penh before a crowd of about 200 people. I acted as emcee for the evening.

KROM, Sophea singing the song Ying (Photo credit: KROM)

Audience around KROM performance (Photo credit: KROM)

Christopher Minko, KROM (Photo credit: KROM)
We started off with two songs by KROM from their Songs from the Noir album: My Way and the Ying. Christopher Minko who wrote the lyrics is the man behind KROM and his lyrics are part of Phnom Penh Noir. Christopher Minko has been involved in a number of charities supporting Cambodians with disabilities. He has fought more than his share of noir type battles to see that disabled volleyball and basketball players were able to compete successfully in international competitions.

Kosal Khiev
Following the KROM performance, Kosal Khiev took the stage. If you want a genuinely noir story, Kosal delivers it in spades. As a toddler he and his family left a Thai refugee camp for America. For a lot of reasons, the land of promise and dreams didn't work out for him. From age 16, he spent the next 16 years of his life in an American prison. When he was released, the Americans deported him to Cambodia, a place he had no real connection. He was an American in culture but a foreigner by birth. No passport—he was in prison and never had chance to get one—meant he could be deported. He lived in the street for a few months until he got his first gig in Phnom Penh. He'd studied writing and poetry in prison and had turned this training into the kind of performance art that stays with you, haunting your dreams.
Kosal and his mother had some large issues. She felt he'd wasted his time on music and poetry, and was after him to get a 'real' job like other men his age, other members of the tight-knit Khmer community in the States. Mothers talk and brag about their kinds. Especially when their sons receive a regular paycheck. They all had sons who worked in a shop, a plumber, electrician, etc but rap/poet performers? She could not grasp the concept. Her son was homeless in Phnom Penh. In fact he represented Cambodia at the Cultural Olympaid in 2012 in London, had appeared on TEDx, the BBC, and won a major prize in Germany—those were abstract things. They weren't a paycheck. That night before 200 people, Kosal's mother sat in chair as her son sang one of those power storms of loss and regret. She cried. Members of the audience cried. After he finished they embraced. It was as if for the first time she had accepted her son for what he was and what he wanted to do in life. She understood his power and that he had the truth he could tell. She was finally proud of her son. It was one of the most moving moments I can recall. I hate crying in public. Men shouldn't do that. But I did.

Suong Mak and Christopher G. Moore (Photo credit: Suong Mak)

Roland Joffé
Next I introduced Roland Joffé, director of the iconic film The Killing Fields. His story Hearts and Minds is the lead story in Phnom Penh Noir. It was his first short story, and everyone who has read it has been touched by it. Roland had been also very moved by the reconciliation of Kosal and his mother. He spoke of how he met Haing Ngor, the Cambodian doctor, who played a pivotal role of the Khmer journalist Dith Pran in the movie. Haing Ngor, who could speak English, was on the set fixing this, helping out with the Khmers on the set, everywhere at the same time. Roland had asked him about being in the movie. Haing Ngor said he wouldn't. They talked again, about the Khmer Rouge, the killings, the desire to make a film that would portray those who had suffered during this time. Haing Ngor finally agreed after understanding that he would be able to take that message to the world. Not for himself (he wasn't a selfish man) but on behalf of his countrymen who had lived and died during the Pol Pot years. It was another highly emotional moment as Roland Joffé hoped that wherever Haing Ngor was, he wasn't forgotten, as we all honoured his memory and his contribution to The Killing Fields.
Roland also said that he looked forward to telling more stories but more importantly to see Cambodian telling their own stories. He told The Cambodia Daily a day before the launch:
"The next crop of Cambodian stories are not necessarily [mine], or any other Westerners, to tell."
The last speaker of the night was John Burdett, whose story Love and Death at Angkor appears in Phnom Penh Noir. John articulated the concept of noir, placing it in the historical context of French film, as well as classical literature like Shakespeare's. He was the right person to that as he's a fluent French speaker and studied literature in university. He captured the essence of what noir means and articulated context of where Phnom Penh Noir fit into this noir tradition. Vulture Peak is John's latest novel. If you want to give a great holiday present to someone in your family or friend, I can't think of a better crime novel.

Christopher G. Moore, John Burdett, Bob Bergin and Suong Mak, rising Cambodian literary star (behind John Burdett)
It was a noir evening with many a non-noir twist and turns down the emotional road that Cambodia delivers. Also attending that evening were other authors who contributed to Phnom Penh Noir: Bob Bergin, Neil Wilford, Suong Mak, and Jack Narciso. Bob came in from America for the event, and Jack from Italy. We missed James Grady, Praba Yoon, Bopha Phorn, and Richard Rubenstein. They were missed. A video of the evening is being edited and will soon be on YouTube.

Christopher G. Moore, Peter Gray and Roland Joffé
On Saturday, Roland Joffé was the featured speaker at the Rotary Club of Cambodia and I had the privilege to introduce him before a luncheon crowd. The event was fund raising for Cambodian with disabilities. Peter Gray and Lity Yap brought together a good group to hear Roland speak about how Christopher Minko was one of his heroes (mine too) for his efforts to help those no one else was helping.

Lity Yap (second from left) and Christopher Minko and Lity's friends
On Sunday we had two workshops at Meta House where Bob Bergin, Jack Narciso, Neil Wilford, Christopher Minko and Suong Mak, and myself talked about writing and our stories in Phnom Penh Noir.

Meta House workshop afternoon session

Meta House workshop evening session

Noir weekend in Phnom Penh touched a lot of lives. Christopher Minko was the steady hand on the scene who worked tirelessly for months to ensure these events would come about. Arranging sponsors and partners like Johnny Walker and Heineken beer. Also David Armstrong, Alan Parkhouse, and Poppy McPherson at the Phnom Penh Post who let their readership know about the authors and the events.

...
Read More>>

Subscribe to this feed • Save to del.icio.us • View CC license • Email this • Email the author • Add to del.icio.us • Digg This! • Share on Facebook • Discuss on Newsvine • Add to Mixx! • Twitter
| | |
| --- | --- |
| Posted: 12/7/2012 2:22:31 AM | |
On Friday evening 30th November 2012 there is a book launch at the Foreign Correspondents Club of Cambodia in Phnom Penh. I will be the emcee and below are some of the comments I will make at the launch and want to share with you.

First to recognize:

Phnom Penh Noir is the anthology of fiction. For the first time a group of foreign and Cambodian authors have joined together to write stories set in Cambodia creating a bridge for the local and an international audience to travel over. An anthology such as this one is designed build a cultural bridge between communities.

Ten authors and artists who co-operated in this unusual project have come from around the world as well as from Cambodia to celebrate their participation in the making of Phnom Penh Noir.

I predict that in the future, we will look back at tonight as the beginning of new opportunities for Cambodian writers to reach an international audience.

Previous to Phnom Penh Noir, no one had tried to publish a collection of different voices, local and foreign. I took that as a challenge. Let's follow the lives of Cambodians in the aftermath of The Killing Fields. While those events remain a powerful backdrop, what makes this collection of short fiction so compelling is to examine the contemporary lives and obstacles of people living and working in Phnom Penh.

The ghosts of Khmer Rouge period continue to haunt those living in the present—they say: "remember us and what happened here, what it meant and what it continues to mean."

Phnom Penh Noir is a collection of stories and lyrics written as a testament to the people who survived the horror of those bleak days and to those born later, who have no direct memory of the past.

The stories in Phnom Penh Noir roam between these two communities, the old and the young, one remembering, one forgetting. And the stories come as well from the expat community living here.

The authors explore the tension between generations and between locals and outsiders. As readers, you become witnesses to these stories of the hearts and minds of people.

These Cambodia inspired stories are reflections about what we are capable of doing and the nature of forgetting and forgiveness. The authors in Phnom Penh Noir took up the challenge to make the lives of people in Cambodia understandable to others. And these stories make human conflict intelligible, accessible and memorable. How do we go about reconciling another person's suffering and pain from the past with her pressure to find closure and move ahead?

That is a larger question writers ask whenever they turn to fiction to address the existential issues that underscore our stories and books.

For more information: www.phnompenhnoir.com

...
Read More>>

Subscribe to this feed • Save to del.icio.us • View CC license • Email this • Email the author • Add to del.icio.us • Digg This! • Share on Facebook • Discuss on Newsvine • Add to Mixx! • Twitter
| | |
| --- | --- |
| Posted: 11/29/2012 7:49:33 PM | |
President Obama spent Sunday 18th November in Thailand, Monday 19th November (six hours) in Burma and Monday/Tuesday 19th and 20th in Cambodia. Along the way he bumped into the history of a region. Like a nine headed naga history raised its heads and spit fire from the caves of local politics, culture, and prejudices. You wouldn't have seen the fire-eating dragons of history captured in the photographs taken along Obama's three-day journey.

President Obama and Prime Minister Yingluck
Instead what you and the rest of the world saw were the photos of the American President kissing Aung San Suu Kyi, flirting with Prime Minister Yingluck, clasping hands with Hun Sen remain the enduring images of his trip. History doesn't photograph as well and is easily nudged into the ditch. Obama's Southeast Asia trip was textbook present day symbolic image making. Not an angry dragon floated above the heads of the leaders and Obama.

President Obama and Aung San Suu Kyi
We can't undo the past, we can only reconcile with the aftermath, the damage, the loss, the suffering. Any member of the political class will acknowledge the difficulty of brokering reconciliation. No one is happy to deal with past conflicts, struggles and the long trail of victims history produces.
To admit wrongdoing done by one's ancestors is to travel down a path that post politicians wish to avoid. It is easy to blame those not in power or foreigners for the misfortune. Victims gather at the time of major events such as a presidential visit to the area. They demand to be heard. They raise their voices, demanding admissions of guilt, compensation and punishment. Korean comfort women used as sexual slaves in WWII want compensation from the Japanese. Victims of the Cambodian Killing Fields want the Khmer Rouge leaders punished for genocide. The Chinese remind their citizens of the rape and massacre of Chinese civilians in Nanking by the Japanese during WWII. The Thais and Khmer armies exchange gunfire over the border surrounding a historical temple.

President Obama and Prime Minister Hun Sen
The Burmese have a library of historical conflict with ethnic minorities. To be fair, the President did mention the need to provide security to the Rohingya who've lived for generation in the western part of the country. That is as close to history as President Obama came, and the Rohingya pogrom is contemporary, ongoing and not really history.
Historical narratives are like a flag blowing this way or that way depending on the prevailing political winds. When it suits a government to advance a present interest, then the historical wrongs are revisited to justify present day claims and demands. It is an old trick and like a professional sleight of hand, the pulling of the historical rabbit out of the hat unifies the crowd. Makes them marvel at the magic.
President Obama wasn't going to be drawn into the magicians circle and become part of their act. No doubt he understood that the magicians in Southeast Asia wished him to be their apprentice; to applaud their performance. It was better to hug, kiss and hold hands. That was the way to win hearts. That is the new show business, reality show model. History is for nerds, troublemakers, demagogues, eggheads, and ideologues. Besides Americans have their own naga headed creatures from the invasion of North America and the genocide of the native population to slavery, civil war, and segregation. It is hard to criticize another countries history when your own ghosts still roam the land.
There are some explanations why presidents and other leaders visiting another country avoid getting caught up in the local history. It means taking sides. When someone takes sides, it means he or she has made an enemy of those on the other side of the historical divide. President Obama didn't come to make enemies, he came to meet allies, make friends, and cement American interest in the region. Historical accounting would have scuttled those goals. History is something leaders don't talk about with each other. History is a taboo unless of course there is a compelling national interest.
The past is a difficult time and space problem for any democracy to resolve. There is often strong disagreement over what happened, and with both sides claiming their evidence of evidence should prevail, neither side can be reconciled to a conclusion that favours their rival.
Elections don't resolve this standoff either, and that is the dirty secret democracy keeps to itself. The ruling elites, to the extent history runs against their interest, ignores it, waits for the victims to die off or become marginalized. Democracies are no different than other forms of government in the suppression of inconvenient truths from the past. School books, TV and radio, newspapers have traditionally baked the history cake that is sweet and tasteful. No culture wants to recount their unvarnished past. Democracies are in the forgetting business like every other system.
History is like dark matter and energy, which comprise the overwhelming amount of the universe. History, malleable, removed from living memory, subject to manipulation is a geo-political minefield. When President Obama visited Thailand, Burma and Cambodia he is walked through that minefield as well as mingling with the ghosts of the past. People forget the details of what happened long along. When I covered the UN War Crime Tribunal in Cambodia last November, what became clear was how little most of the young generation knew about the Khmer Rouge reign of terror. Killing Fields Justice: a Witness to History.
As those who lived through that time grow old and die, the day will arrive when no one alive remembers what happened. That's the day history truly enters a new phase. The evidence of what happened in the past exists outside the experience of anyone alive. The loss fades, becomes abstract, and the past because that alien foreign land where the dead are left as the only citizens. Politicians struggle to keep coalitions together in the present. Obama was looking to the future, a legacy by coming to Southeast Asia, and that goal is rarely found in the graveyard of the past.
The last reason that history is left along the road to solving contemporary issues of the day such as trade relations is politicians are caught up in the present with an eye on the future. They don't see a percentage in glancing back over their shoulder over events caused by others in the distant past. History is long, diverse and complex spanning generations and centuries. A president, like the rest of us, lives inside the confines of a 24-hour day. There is only so much information that can be processed during a day, a week, a month or a term of office.
We are overwhelmed by information. In Nate Silver's The Signal and the Noise: Why So Many Predictions Fail-but Some Don't
the author notes the human brain is capable of processing only 1/1,000,000 of the daily information of 2.5 quintillion bytes. We fall behind every day. There is no way we have discovered to keep up with this onslaught of new information.

A lot of that daily information may be 'noise'—it isn't useful—but finding the signal in that maze of noise is still bound by 24-hours that makes a day. With so much new information to process, separate into signals, evaluate, test and form and shape into ideas about policy it is no wonder that history—all of that 'old' information—remains in the back of the drawer.

Asia, like every other region, has many ghosts walking the land. The explosion of information threatens the past, which is slowly being lost in the 'noise' of daily information. Who can keep up with the present information, might be able to factor in the past information. But we aren't at that point. We may never reach that point either. Our daily information journey puts us further behind each day. We can take a historical journey through The Killing Fields, the South of Thailand, or Burma's long oppressed ethnic groups, but the longer we spend in those past wrongs; the further behind we fall in the current daily information overload.

The long history of discontent, simmering resentments from the past, and unresolved borders lay buried behind the sweet smiles, flashing eye contact and handshakes. It also lies buried behind the information treadmill, which keeps increasing speed and as fast as we run we find that we only fall further and further behind with no hope of ever catching up.

History teaches a valuable lesson about data: the rapid growth of information radicalizes, ghettoizes, and localizes communities with strong beliefs. They have their own TV stations, websites and blogs where such communities exist inside a bubble believing in their alternative reality built from cherry picked data. No wonder information contained in 'history' has become another data point used by one side to support the superiority of their set of claims.

The unresolved and rival historical claims existing between various Southeast Asian countries may be exceeded by the internal conflicts over historical injustices inside each country. As President Obama danced in and out of the region, he seemed to be saying between hugs and kisses and handshakes, "Move along people, stay close to me, there is blue sky ahead and we'll walk toward the sunlit horizon arm and arm together."

Remember the kiss of today. Forget the graveyards of yesterday. The ghost whisperers make certain that state of affairs never holds for long.

...
Read More>>

Subscribe to this feed • Save to del.icio.us • View CC license • Email this • Email the author • Add to del.icio.us • Digg This! • Share on Facebook • Discuss on Newsvine • Add to Mixx! • Twitter
| | |
| --- | --- |
| Posted: 11/22/2012 7:50:43 PM | |
The Oxford Dictionary has included a new word in their 2012 edition—omnishambles, which is defined as "a situation that has been comprehensively mismanaged, characterized by a string of blunders and miscalculations." The tradition in Thailand is to shortened long words. There is a good chance that omnishambles will enter the Thai vocabulary as something like 'om'. The shortened word has the kind of sound that sounds like a chant, the kind that takes you into a meditative state.

Last week provided a good example of 'om' in overdrive as the Thai authorities sought to limit the damage of a bailed alleged rapist of a young Dutch tourist.

The cover up or denial of unpleasant facts by local officials was immortalized in Thomas Mann's Death in Venice. In that case it was the mysterious outbreak of disease that officials feared if known would harm tourism. In an economy dependent on tourism when there is a crime against a tourist or an outbreak of a communicable disease, the question is how do the police, courts, prosecutors and other government officials respond?

Do the local officials cover up? That is the Death in Venice solution.

Do they blame the tourist? That was recently the Thai solution to an alleged rape committed by a Thai tour guide against a 19-year-old Dutch woman in July 2012. The facts at hand (remember facts reported in the local press are often only distantly related to what actually happened) indicate as follows. The young woman had been on holiday in on the Island of Krabi. She was on holiday with her boyfriend. On the evening of her birthday, she went to dinner with her boyfriend and a tour guide. The boyfriend left earlier leaving his girlfriend in the company of the tour guide. The way back to the hotel, the tour guide allegedly raped the young Dutch woman. I use 'allegedly' because the tour guide hasn't been tried and convicted of the crime and until that happens no matter how damning the evidence (and in this case from the press reports, it seems the evidence is strong) we must remember he's innocent until proven guilty.

That said, the evidence (doctor's medical report, victim's statement, suspect's confession, photograph of the victim's bruised face) suggest a strong case against the suspect, who ran away after the incident. He either went into hiding or managed otherwise to avoid the police for a couple of months. The police finally caught him (or he voluntarily turned himself in according to some news reports). When a court released the suspect on bail, the victim's father made and released this video on YouTube, which has gone viral with over 400,000 views. His anguish and despair over what happened to his daughter and the release of the suspect on bail pulls at the heart.

From politicians to the police the response has been devoid of anything approaching compassion for the victim or expressions of sorrow and regret over what had happened. Krabi police uploaded two YouTube videos but the second video was removed. According to the Bangkok Post, the police video "The Truth from Krabi" that was removed had around 50,000 views, 24 likes and 355 dislikes. It wasn't a hit and became another example of the 'om' factor.

But the YouTube video by the victim's father above remains online with a approval rating that is the opposite of the Krabi police videos. Meanwhile, the media heard a number of officials resort to the kind of rationalizations, justifications, and frankly ugly statements such as because the rape victim had gone to dinner with the suspected rapist that she got what she deserved. Omnishambles is the correct description of the various statements and counter videos made by the police. If you read the comments following the Evil Man From Krabi YouTube video, an overwhelming number of Thais come out in support of the victim and who are shocked and disgusted by the official reaction to the rape suspect being released on bail.

The suspect is someone who avoided the police for a couple of months. When the police finally caught up with him, he confessed to the charges, retracted the confession and was bailed. The fact he made himself unavailable for a couple of months suggest that he's not a good candidate for bail.

The case against granting bail was a good one. The suspect already had shown through his previous conduct that he might flee to avoid being prosecuted for his crime. Also, the suspect is a tour guide who has committed an act of violence against people who hire him. He's free to return to his work for tourists who likely would not know he's facing rape charges. His being out as usual puts other tourists at risk. Would you allow your teenage daughter to use this tour guide knowing he's a rape suspect? This is strange way to encourage tourism.

In sum: the suspect confessed to the crime, which had been well documented by the doctor who examined the victim. The suspect did a runner. He physically beat up the victim. He raped her and left her on the road. The attending doctor said it looked like she'd been in a motorcycle accident. Despite these facts, the suspect who confessed to aggravated rape was released on bail. He's back on the street or beach in Krabi and presumably free to continue his line of work.

We learn a lot about a culture by examining the degree of transparency and openness in the process in which they seek to gather evidence, evaluate the evidence, based their decisions on the evidence. We learn a great deal about notions of justice and the equality of treatment without consideration of ethnicity, nationality, or social status. The Krabi rape case is a classic text, like Death in Venice, which shows the operation of law enforcement and the administration of justice up close and personal.

Here's the first Krabi police video posted in response to the Evil Man from Krabi also on YouTube:

Unless you are fluent in Thai, you won't follow what the policeman on this video says about the incident. It is just as well that you don't understand what he's saying. The explanation is rambling, defensive and not terribly coherent. This isn't a parody; it is full blown inside glimpse of the sub-culture and attitudes of law enforcement officials. There are no subtitles for the video. It doesn't seem to be have been produced for an international audience.

Notice the inflection in the voice when he uses the word 'farang' and then substitute 'jew', 'Latino', 'gay' or 'black' and you don't need to understand the language to understand the underlining attitude. The tourist is the 'farang' the other, not one of us.

The 'official' response to the criminal case by those in authority (as opposed to thousands of Thai citizens) exposes a number of important attitudes. First, sensitivity to the suffering of someone who is the victim of a crime of violence is not acknowledged. There is no sense of the huge physical and psychological damage suffered by the victim. Instead, there is a jackboot mentality—we are the boss and we do no wrong. The authoritarian mindset is tailored made for enhancing the omnishambles. The police don't come across as serving justice or helping the victims of crimes of violence. They are simply scary men who can do whatever they want, and whatever they say is the law.

Second, the only way to get attention of people who run their own little nasty local empires of impunity is to expose them; put them in the spotlight, and let the world judge for themselves whether going on a holiday to a place with police officials with these attitudes and priorities is worth the risk. If something goes wrong and you're a tourist on holiday, then it is likely your fault. You will be left chanting 'om'.

Third, police reform has been the subject of many commissions and committees but nothing has ever been done. It is always business as usual. Part of the reason 'reform' is so difficult is illustrated in this case. It is not changing a procedure, training in the latest detection techniques, or new uniforms. The aftermath of handling the rape case shows the deep-rooted culture of impunity, a top down military command culture, a culture with a warrior mentality and anyone who doubts, criticizes or complains is attacked.

The Evil Man from Krabi is such an attack against a legal system that is perceived to have committed an injustice. You can see and hear the full arsenal the authorities bring to media. They alternate between justifying their handling of the case, pointing the finger at others, attacking the victim, looking into blocking the YouTube video, and concentrating on how to limit the damage to their face and tourist industry.

Resort locations like Krabi have developed a local economy based on tourism. Millions of dollars are spent to create an international image of Thai fun, hospitality, and service. But the PR machine explodes once the monkey wrench from the dark side is thrown into the works. The Thai authorities, based on statements and videos they've released, suggest that tourists are a commodity, someone to be bought and sold, to be marketed to, managed, relieved of money. No one in power was reported as speaking of the violation suffered by this young woman, about her loss of dignity, or about her right to respect as a human being.

The case also exposes the knee jerk reaction of the police and other government officials that it is the foreigner woman who is at fault because of the clothes that she wore or that she had dinner or a drink with the rapist. In other words, foreign women get what they deserve. This 'evolved' feudalistic worldview is one where the police, in their mind, are always right. They close ranks. They have the power. You have none. They issue rambling statements of justification. They aren't used to someone challenging their version of events. The fall back position is usually along the lines of a 'misunderstanding' when it is clear that what they claim are the facts are exposed as distortions and lies.

What the officials and police fail to understand is with social media networks across the world, the old true and tested tactics that work to shut up the locals no longer works. They no longer control the information or the message. Millions of people can watch, read, and listen and more importantly question, judge and criticize the officials and police. They seem unable to understand the new world of information which exposes cant, hypocrisy, lies, obfuscation, and excuses for what they are. Omnishambles exposes them. They have no place to hide.

The danger exposed in Krabi isn't the suspected rapist who is on bail, but the officials who are in charge of security of the thousands of tourists who flock to the beaches of Krabi and elsewhere in Thailand. If the message gets out that their safety and welfare is not a priority that message has registered loud and clear in this case. When reform finally comes—as it will—the agency behind the reform will be the outward pressure from millions of Thais who take heart that attitudes of those in power will ultimately change.

...
Read More>>

Subscribe to this feed • Save to del.icio.us • View CC license • Email this • Email the author • Add to del.icio.us • Digg This! • Share on Facebook • Discuss on Newsvine • Add to Mixx! • Twitter
| | |
| --- | --- |
| Posted: 11/15/2012 7:47:03 PM | |
I saw the new James Bond movie Skyfall this week. It was as though a Chuck Norris movie and Silence of the Lambs had been remixed with Daniel Craig playing Chuck Norris. Hector Hannibal morphed into villain Silva in Skyfall. Daniel Craig, in the tradition of 72-year-old Chuck Norris, went bare chest and killed more extras than appeared in the movie Gandhi. It was more like computer game killing than the real thing. People who are in the drone business must have the same detachment–this is another day, another job, attitude toward killing.
After the movie, I tried to remember how many people James Bond killed over the course of the 2 hours movie time. There were too many expendable characters who died to keep track. This must be something like working the immigration desk at the airport as one 747 after another lands and their weary passengers queue with their passports.
Someone with a lot of time on his hands has indeed gone through the Bond movies and added up the dead bodies. In the 1967 Bond movie You Only live Twice the final tally was 196 killed. Bond didn't kill all of them. Apparently Bond's highest kill ratio was Goldeneye where he dispatched 47 bad guys. It depends on how you count and who is doing the counting.
Here's an 8 -minute YouTube montage of several Bond films where the body count is 401 kills.
My feeling is that Daniel Craig came close to that number in Skyfall. But I could be wrong. Besides, the body count doesn't really matter until you are a politician or a general and need to explain why you need more money. When you are watching a movie, you find yourself weaving from scene to scene with the character rather than a cold, calculated computer keeping track of the bodies as they fall.
What Skyfall and other movies like this demonstrate is how violence is an essential part of the entertainment industry. Movies are only part of the story of how violence is disseminated. The nightly TV news, YouTube, newspapers, tabloids, blogs, Internet feeds, Tweets—all are fused with body counts, details of acts of violence, threats of violence in the future. Our cultural meal is heavy with violence as the main course. It seems there can never be too much violence.
Anyone who writes crime fiction is hardly in the position to point a trigger finger at another person who uses violence in the entertainment or news industry. Vincent Calvino, over the course of 13 novels, has killed a fair number of people. I've contributed to the overall cultural body count. As I recently wrote to my friend and fellow blogger James Thompson, violence is a ritual. It probably always has been. Slaughtering of animals and human beings to appease the gods made violence sacred. Religion gave violence moral authority and purpose and made killers into warrior heroes. Killing in the name of a higher cause is a way to recruit killers and put them to work. Someone else's higher cause for murder never comes close to matching your higher cause for murdering. And so it goes.
Violence falls generally into a several broad categories that may at times merge. First is the use of violence as an act of revenge. Capital punishment is the State acting as the agent of revenge. Often revenge is privatized in movies, books and TV. Skyfall is the classic revenge movie where the villain uses violence and mayhem to avenge the wrong done to him. He'd been betrayed, and what better response to betrayal than to murder the person who turned disloyal?
The second category includes killing competitors. In modern terms competitors are 'enemies', 'terrorists', 'demons' who, once they enter this class, can be killed with a clear consciousness. In a state of war, whether against a country, or war against drugs, the killing is to obtain a victory over bad people and bad forces, and those who do the killing are given promotions and medals. At the highest levels of the political class, a certain sociopath personality is useful to use killing and violence to achieve policy goals. While they don't often do the killing themselves, they use psychopaths to do the dirty work.
A third category is violence committed by psychopaths, that small but mentally deranged group of individuals who kill not out of revenge or to eliminate a competitor but out of the thrill or pleasure. An inordinate amount of media is given to such killers. They are fundamentally different from the other killers. Psychopaths feel no remorse, guilt, shame or empathy for their murders. Brutality and cruelty don't register except as part of the pleasure enhancement of killing.
This leaves us with the question of where James Bond fits in the violence matrix. In Skyfall, Daniel Craig's killings fit all three categories. He's a man for all seasons in the killing game. To keep that high body count, it is useful to employ all the categories and hope that the audience doesn't notice that this is rarely the reality of life. But whoever said that James Bond had anything to do with reality? Indeed, having seen Skyfall is a reality check on violent death, its causes, actors, and the reasons behind the body count.
What Skyfall does bring home with the huge body count is that we know nothing about the people Bond has killed. They have no back-story. They have no mother, father, brothers, sisters, friends, neighborhood where they played as children. As they never come to life, we feel nothing when Bond kills them. It seems the Bond franchise is in perfect harmony of the modern technological age of remote killings of people who we are never allowed to know. They are extras in life. They have no name or identity. Body counts on the industrial scale require that detachment. We can't really allow ourselves to know and identify with the people our leaders, police and military kill.
Skyfall is a failed attempt to turn the James Bond Franchise into a Noir Film series. The problem is James Bond Ian Fleming didn't write Bond as a noir character. Though Daniel Craig does a credible job of playing the noir lonely hero, but his clothes are too well tailored. He looks more like the manager of a Boy's band. Also the noir atmosphere dissolves into Pulp fiction slapstick each time Silva, the villain, turns up with a fresh platoon of goons who in the tradition of the gangs around the Joker in Batman, die and die in inexhaustible numbers. Skyfall never decided what kind of movie it wanted to be and the evidence of that unresolved struggle leaves an unfinished decision. This wasn't James Bond. Then what was it?
I have a theory why the movie didn't work. The director and producer of Skyfall wanted to bring in both the old James Bond audience and the newer, noir audience of Girl with the Dragon Tattoo. There are no heroes who beat the system in noir. There are bad guys, and that is a good place to ask the question: who really are these bad guys and why must they die by the busload and in anonymity except for their leader?
It started me thinking one of the keys to labeling a book or film noir is knowing your bad guys and those around them as well as your hero. That's knowledge is worth having because then the killing is put in a different context.
As in real life, in fiction, we ask ourselves: Exactly, who are the bad guys?
Now, that is a difficult, complex and dangerous question.
...
Read More>>

Subscribe to this feed • Save to del.icio.us • View CC license • Email this • Email the author • Add to del.icio.us • Digg This! • Share on Facebook • Discuss on Newsvine • Add to Mixx! • Twitter
| | |
| --- | --- |
| Posted: 11/8/2012 7:55:48 PM | |
I have long avoided reviewing books written by friends. It is hard to be objective when you know the writer. As a general rule, it is a good one. Every now and again, an exception comes along and like a good lawyer, you ask yourself whether to go with the general rule or make an exception.
In the case of John Burdett's Vulture Peak
, I'm going with the exception to the rule. Let me explain why.
When I open a crime novel my wish is to plunge inside, a full headlong immersion into another world of events, characters and drama that carry me on a white water raft of sheer joy, wonder and adventure. Once the raft is pulled from the river and you think about the experience, the rush of letting one's self go and be carried away is the memory imprinted.
Reading John Burdett's Vulture Peak
is that kind of literary white water rafting rush I alluded to above. For those who seek the safe comfort of categories–genre and literary–Burdett's novel will cause you to rethink such a flat, arbitrary and meaningless distinction.
Since Bangkok 8
arrived on the scene, Burdett's Royal Thai Police Detective Sonchai Jitpleecheep, a luk krueng, has attracted a huge international following. In Vulture Peak, Sonchai is assigned by his boss to investigate an illegal organ trafficking operation.

Colonel Vikorn, Sonchai's boss, is an inspired creation—a character that possesses all of the qualities of a sociopath—is running for election in Bangkok. The colonel is a control freak who has "outmaneuvered, out cheated, outwitted, out sold, out bought and out killed his enemies"—in other words, the usual uniformed official whose graft-reaping skills have prepared him to run for political office in Thailand. Those lurking in the shadows behind his campaign take the story to Yunnan Province.

The colonel's riff on the mental mindset that justifies corruption is itself worth the price of the book. Among the cast of characters are two beautiful and sinister Chinese sisters with a luxury house in Hong Kong. Lilly and Polly, unlike Colonel Vikorn, who is merely a sociopath, have inherited psychopath gene through their grandfather who taught them the pleasure in killing, severing, and suffering of others.

Not surprisingly, Lilly and Polly—two seductive, medically trained young upper class Chinese women—emit the equivalent of Gama death ray. They are two dangerous women. Sonchai detects the lethal warnings and is alert that once he enters their zone he's at mortal risk. In an act of self-preservation, he avoided bedding either or both of them. It seems the twins had seduced their own father.

Sonchai is married to an ex-hooker working on her Ph.D. Chanya's role displays Burdett's ability to dial into the female frequency passing through the static between feminists who come from different cultures. Murder, drugs, blackmail, ambition, and power gather speed like a runaway train down the side of a mountain as these characters go about the business of finding, harvesting and selling organs.

Creating memorable characters is difficult and rivals the creation of a sense of place, with the culture, sweep of history, style, fashion and shifting alliances and power. Burdett also excels at place. There is no one well-defined Bangkok. There are sub-districts buried far away from the public eye, especially the roving eyes of foreigners. But Burdett has burrowed inside the way of thinking of local cops, students, and others. The demons are kept at bay. Just. From Bangkok, the story moves to Dubai, Hong Kong, Phuket, and Pattaya. Sonchai travels on an American Express Black Card (given to him by Colonel Vikorn), which is the ultimate global passport that opens all doors.

What makes the scenes work is the detailed knowledge of the author of each place. He has taken the pulse of place, investigated the deeper layers of life that go on beneath the surface. Sonchai's search for the black market trade in transplants takes him inside the lurid sexual world of Pattaya where the entertainment venues offer something for everyone: heterosexuals, gays and katoeys.

What drives Vulture Peak forward is an awareness of crime, corrupt police and politicians, and excess commercialism as it rolls through the traditional cultures of Asia. Burdett has a handle on the gathering forces of change and has created a great cast of character who stop at nothing to achieve wealth and power. International crime fiction has come to maturity in the last few years. Burdett's Sonchai series is one of the best around. He has the courage to take risk in terms of characters and settings, and never falls into the trap of recycling elements that while they may appeal to loyal readers would keep him narrowly confined.

Vulture Peak tells a larger story of commercialization. Prostitution is commerce. Body parts are commerce. Politics and policing dive into the deep end of the commercial pool, and Burdett does a brilliant job in bringing the full weight of a money culture on the morality of loyalty, dignity, and compassion. Burdett's Vulture Peak is a search for truth as the reader follows Sonchai who does his best not to stray too far from the Buddhist path.

It is a struggle to remember of non-attachment with the Black American Express Card in his wallet, but at the end of the day, Sonchai witnesses the enlightenment in the red light district and on the way home with Chanya while discovering the dharma of love.

Now you know why Burdett's Vulture Peak is an exception to my general rule not to review a friend's book. Sometimes you need to read a friend's books to understand why someone became your friend in the first place.

...
Read More>>

Subscribe to this feed • Save to del.icio.us • View CC license • Email this • Email the author • Add to del.icio.us • Digg This! • Share on Facebook • Discuss on Newsvine • Add to Mixx! • Twitter
| | |
| --- | --- |
| Posted: 11/1/2012 8:54:23 PM | |
It has become a cliché that we are unable to resist telling each other stories. The building blocks of a story are words and images. They transmit a message of how we see, interpret and understand the patterns of everyday life. What we value, what we desire, and what causes us happiness, grief and suffering. It is what makes us human—this ability to transfer thoughts in the envelope of words and images and sail them across space where they land inside someone else's head. Often that hidden away thing is alienation. The feeling of anger, emptiness, insignificance and fear that things will end badly.
Rats make a powerful image for the excluded. What is more vile, dirty, feared and hated that urban rats? There have been periods of history where ethnic groups have been likened to rats and we know that boxcars followed those words and people were pushed inside them and sent to their deaths.
My images are metaphors. My words are mostly found inside of books I've written. I often write about the 'rats' because they deserve a voice. And also I sympathize with their lives. Some of my words leak out in spaces other than books but not that much. This information tells you that what I have to say to you is funneled through commercial channels. You buy one of my books. Or can come here and look at my wall and see what I've written.
You don't have to pay for the words found on this blog. You don't have to go to a store and ask a clerk if they have my words in stock. Because part of what I do is share ideas and connections because I think this creates a kind of wealth. Any time your words or images make you deliberate about something you have always accepted and never taken the time to think about, your wealth has increased.
You can print out these words and give them to your mother, girlfriend or boyfriend or the neighbour next door. I hope that you will consider doing that. Print it out and slip it under the door. Because the ideas expressed on the paper might just increase their wealth, and you as a wealth generator will have added something to another's life. Words and images are the outlier's frequency for transmission work, it becomes slightly more difficult for governments and corporations to control the consumers of their words/images. That's why censorship has and will likely always remain popular in the official arsenal of weapons to win the daily battle with who challenges the masters. A good essay is a survival kit. Food for thought when you get really hungry for an idea and none is around.
Here are words and images on a wall that is worth a library of noir fiction.
I've been thinking about one of the little known wealth creators who uses words and images in public places. His name is Banksy. My good friend Tito Haggardt who together with Mervyn Gillham went to a great amount of trouble to send me Banksy' Wall and Piece
.
I recommend you buy Wall and Piece as a present for upcoming holidays. It may be one of the best gifts you ever give to someone. They will thank you. Like I thank Tito and Mervyn. I owe you. And I always pay my debts especially when someone gives me a book that increases the kind of wealth that I value. This essay is about the wealth I acquired, thanks to the efforts of these two friends. Wealth defined as relieving pain and suffering is explored in a brilliant essay on Ribbonfarm
Who is Banksy? He's a blank slate. A famous English blank slate born in 1974. Since the 80s (he started young), Banksy found a powerful tool in graffiti as a way to deliver messages left in public places. You won't find a picture of him. He chooses to remain off the grid; he communicate only with his words and images left in public places—London, Melbourne, Toronto, Los Angeles. Banksy gets around. Until someone in 'authority' dispatches a minimum wage worker with a scraper and hose and orders him to remove the words and images. 'Graffiti' is the tag society puts on Banksy's art and I am here to tell you, that is just wrong.
Banksy creates wealth. It is free. He doesn't ask for money. Though it seems in recent years he's become very rich through his acts of rebellion and subversion. It's the way all systems co-opt the Banksy's of the world—make them one of the elite. From as far as I can tell, Banksy has remained true to his ideals. It would be like Christopher Hitchens making a dead bed conversion to Christianity for Banksy to appear on the Daily Show wearing an Armani suit.
If you study his images and words you will become richer. This is the place where I want to talk about rich and wealth not in the conventional sense of the money in your bank account the worth of your house or car. It is liberating to understand that adding wealth can be done without an exchange of money. Your vault filled with the words and images you've collected over a life time will need to be reshuffled, refilled, updated, rearranged, and some of the stuff you've been holding onto—well just throw it away. Because there's stuff you base your ideas about life that are based on bullshit—commercialized words are the worst manure because they don't smell and we are taught the messages are wholesome, good, beautiful and uplifting. That's how bullshit works. You didn't know that as you clutched onto them, but trust me all of us need to periodically house clean the word and image horde we believe represents a coherent view of the world.
This weekend when you go outside your house, apartment, room, tent or trailer rig, stop for a moment and look around at the buildings, walls, bridges, and billboards. Take a look at the assault of words and images trying to get inside your head. You hardly notice them. They are part of the landscape. Look closely and you'll find all of the spaces are covered with words from officials or businesses—lots of large corporations have pasted your landscape with logos, brands, words, and images. These don't create your wealth in terms of knowing more about the world. These images are a way to extract wealth from you. They call on you to pay money for something. The words and images are intended to be 'sticky' to rattle around inside your unconscious thoughts until you turn into a shop, and find yourself putting a product in your shopping cart and you not sure why that is happening.
What Banksy does is claim the space, which has owners who rent it to people selling you bullshit. These people don't like the Banksy's of this world. They are outliers, who stencil non-paying words and images on spaces that mock the bullshit, the lies, the deception and hypocrisy of modern consumer driven life and the political class owned by the corporate class. Or maybe they are one in the same and not two separate things. That is a separate debate.
The authorities and business interest hate it when someone like Banksy creates wealth at their expense. This is the ultimate threat to the entire superstructure of capitalism. How does Banksy create wealth? By making the words and images of our overlords who deliver in all spaces we inhibit one Big Message after another, something quite different; those Big Messages suddenly are small, empty and false.
While a case can be made that artist are by the intrinsic nature of their work are engaged in a form of rebellion. Criminal are almost always not rebels but those who find that money is the quickest path to power, and words and images aren't anything more than the slogans and brands they can't wait to possess with their stolen proceeds. Crime fiction—especially the noir crime novels—track the dysfunctional social and political and economic system—showing that putting lipstick on a pig is bound to come to grief once the audience sobers up and pays attention. Banksy's audience—those who have no voice, no future, no hope or dreams—look to someone to notice there are people like that in the world, to understand that is most people.
BangkokEyes is a great website for many reasons. One of those reasons is the websites extensive collection of hundreds of graffiti images/words found on walls, sidings, buildings and bridges scattered around Bangkok. As a method of expression by the excluded class of people living on the margins, this is the place where the true pulse of ordinary lives can be found. Not on TV, newspapers, the Internet, or in most books. The raw, vibrant, colourful in your face images of and from people who are ignored and want their stories to be told.
That vast audience for the walls painted with unpaid for words and unrented images and make them look at the paid for stuff in a different way. If the mass audience taught to be consumption machines, could switch off that motor, look around, listen to the silence and then write or paint, they'd write a noir crime fiction or they'd find a blank wall and put a story in images to make us think how most people really see their lives if you shut down the noisy motor that destroys all signals except the paid for ones. Tune in to another frequency. Next time you go out the door. Look for what the forces that shape your view of reality want you to ignore.
We have only the illusion of the buyers of wall space to go on. When the caveman carries the tray of fast food and stares at the audience, he's saying, "WTF are you staring at?"

The answer for those who live margined lives confined to the outside, the message is obvious: Banksy just held up a mirror. For a second time, the same question screams at your from the screen—WFT are you looking at?

That's you. That me. Can I supersize your day?

...
Read More>>

Subscribe to this feed • Save to del.icio.us • View CC license • Email this • Email the author • Add to del.icio.us • Digg This! • Share on Facebook • Discuss on Newsvine • Add to Mixx! • Twitter
| | |
| --- | --- |
| Posted: 10/25/2012 8:47:22 PM | |
Watching the presidential debate Wednesday morning (17th October) Bangkok time was a reminder that what people saw, judged, and talked about was the 'self' on display by both Governor Romney and President Obama. The projection of 'self' is as important as the substance of their respective policies.
Such a debate is a medium in which the presence of 'self' becomes the central message. Projection of that 'self' is intended to convince the watchers of 'self' that the person on display is trustworthy, reliable, honest, quick witted, capable and knowledgeable. The color of the necktie, the American flag pin on the lapel, the smiles, smirks and frowns, the standing and pacing and circling, the position of the head and eyes all give clues as to the 'self' seeking to convince others of his leadership qualities. Each of these selves deliver packets of memories—of events, incidents, meetings, and those memories are paraded and defended as if they are universal in validity. Viewers are asked to ally their memories with the person addressing them. It happened this way or that way, or this is what I said, or what someone else said.
Memories are transient, fallible, and often distorted or false. It should be obvious that people remember different things, emphasize some details over others, overlook or fail to see something. In reality, people cling to their memories like a dog to a soup bone. That memory is provisional, often unreliable, or incomplete is a hard concept to accept for many. Western culture is built on an idea of 'self' that depends on the reliability and trustworthiness of memory. No one hears in a presidential debate a call to humility when it comes to memory. No one ever finds an admission that the other person's memory, though different, may prove to be correct. Presidential debates are verbal wars between competing self's (the attempt to call them 'visions' or 'points of view' are disingenuous), the compulsion to win the debate means defeating the other self, and along the way the casualty count includes ignoring the role of fallibility, gray zones of doubt, or cognitive biases.
Debates are in the same category as writing an essay, an opinion piece, or non-fictional account of an event or personality. The 'I' of the writer is front and center. He or she is uncoiling judgments, opinions, speculations, marshalling arguments and facts—the techniques featured in most non-fiction writing. The author of the essay like the debater doesn't disappear and open a realm occupied by 'characters' with their 'dialogue' and their fears, uncertainties and doubts locked inside their private interior, the emotional realms where, in fact, most people spend a great deal of their time.
Debates and writing are influenced by the values and social norms. The starting point is to ask whether the debate you watch or the book you read is influenced by a culture based on a religion that promotes self-preservation or one that advocates self-extinguishment.
The three major abrahamic religions—Christianity, Judaism, and Islam—share a similar belief—'self' preservation in the afterworld. It goes by the name of a 'soul' but that is religion speak for the you; the self, the one you know and love—will exist for eternity in heaven or hell. That gives a presidential debate a mythic, biblical quality as two selves—two self-identified angels—battle for supremacy. One will prevail just as the other will fail.
What is missing in an essay or a debate is the absence of self. In Buddhism the ultimate goal in life is to have extinguished the 'self'. This is what I find the essential difference between what I am writing in this piece and when I am writing a novel. At every turn, I am aware of myself in writing these words. They are mine. The thoughts behind them belong to me. I have called them out of my memory and present them as if they have no bias, are true, and that you should believe what I say. In other words, my 'self' is on display.
Fiction is quite different (in theory). In fiction the author who can never get over himself or herself will have a limited career. It is a forgetting of self. Letting go of self is a precondition for empathy. James Wood in a recent essay about the novelist Tom Wolfe examined how Wolfe had failed book after book to rid himself of 'self' and the result was every character sounded like a megaphone for Wolfe's own self that never managed to leave even on dialogue line uninfected with his personality.
An author who in the act of writing sheds her 'self' is Hilary Mantel. Sophie Elmhirst's essay in the New Statesmen is a revealing portrait of an author's past and how it shaped her ability to forget herself and slip inside her character's lives. Mantel disappears into her fiction; Wolfe shouts, screams and dances from a platform hand-waving to the audience as if he's in a presidential debate. Mantel would make a good Buddhist and probably a good president. Wolfe's literary 'self', on the other hand, I hope finds eternal peace.
In the absence of a highly evolved sense of empathy it is difficult for a fiction writer to enter into the dreams, thoughts, insecurities, doubts that people experience in their daily life. A fiction writer often talks about losing themselves in the characters and story. That is what they mean. Their self has vanished. They occupy a realm where the characters channel through the writer's mind and reveal their most private secrets; the place where evil lurks, where the shadow of doubts trail self like a mugger, where the skin is stripped from the body of good intention and left out to dry.
Rather than hearing the two candidates debate about the middle class and working class they wish others to believe they care about so much, I'd ask them to write a novel. I want to see what comes from such men when they suspend their sense of self and enter into the emotional lives of ordinary men, women and children. That would be the kind of 'information' I'd like to know. Ultimately it is the empathy connection that is the thread that ensures fiction won't die. It should be part of the sewing kit that goes into the mix of an election. We can't trust the self presented in a debate or an essay if that is all we have to go on.
We should be asking leaders to not pepper their debates with references to having met this person or that who had a problem as a nod to empathy, a way for them to identify a sympathetic self. That won't tell us much about their capacity for empathy. 'Self' is the main character in presidential debates. We need to know, and deserve to know, what leaders pay to attention to when they look at other lives. If they can never escape the 'self' you can't ever be sure as their term spools out before your eyes whether they really have the ability to tell a story through the lives of other selves in the full glory of lives haunted by doubts, racked with suffering, and disappointments. Paying attention to how ordinary people cope with their lives shouldn't be limited to fiction.
I'd like to read Obama's novel and Romney's novel. I want to know how their minds work when it isn't focused on self. I want to understand how empathy works for them through the words and acts of characters who make stupid decisions, crazy choices, people who fail, those who give up, those who get up and struggle to keep going. Or a painting in the style of Francis Bacon self-portrait might also be interesting.
If I had that sense of these men in the act of forgetting themselves—that is the nature of the best of fiction—I might know something important, more important than a vague policy or intention to do this or that. I'd have a sense of someone who walked a mile in someone else's shoes and was able to communicate what that experience was like and could make that experience real enough for me to believe he understood something genuine about the human condition. Both profess belief that the 'self' is preserved. They have a lot at stake. We will likely never know if their novel would have been written in the tradition of Wolfe or Mantel. I'd like to think one day that might matter, and how someone forgets 'self' and embraces empathy is better indication of leadership ability.

...
Read More>>

Subscribe to this feed • Save to del.icio.us • View CC license • Email this • Email the author • Add to del.icio.us • Digg This! • Share on Facebook • Discuss on Newsvine • Add to Mixx! • Twitter
| | |
| --- | --- |
| Posted: 10/18/2012 8:49:58 PM | |
As social creatures, in strict accordance with a primate nature, we can't help but measure our rank and status. Writers are no different. The chatter about foreign rights, film options, foreign rights, audio rights, large print editions, paperback deals, best seller lists, sales figures, advances are just some of the many ways that writers seeks to show their perch on the literary ladder. I call them "perch placement events."
Now Amazon has come up with an author's ranking. Like the ranking of books or the DOW, the status of a writer can follow a bull or bear trajectory, and writers can waste yet more valuable time checking to see if they are up or down. It won't be long before there is some exotic derivative that arbitrages writer's ranking.
Now for something new (or at least new to me) has rolled out of the digital world and opened on my screen. It has to do with Vincent Calvino, the private eye, who appears in thirteen novels (counting Missing in Rangoon January 2013).
Let me set the scene.
Halloween is on its way. That night of All Souls when children dressed up as ghosts, rock stars, demons, and celebrities requires a costume. Going door to door seeking handouts is sanctioned once year so long as you are suitably dressed.
The world of commerce cashes in on Halloween. It's nothing like Christmas, New Years, Valentine's Day and probably a half a dozen other lesser holidays but it is not overlooked by the world of commerce. And the fashion industry notices Halloween as a chance to sell for the evening outings.
A fan brought a website to my attention that is selling a costume collection in honour of Vincent Calvino. I am not certain if Vinny is the first private eye to be so recognized, but one thing is for certain–fashion and commerce have found a new way to scare people on the mean streets of Bangkok.
I love the idea of Vincent Calvino fashion. A writer if he or she keeps at it long enough will accumulate one or more Perch Placement Event. But getting a fashion collection in honour of a fictional character is not something you frequently see in a Wikipedia entry. But..but…and there are always a 'but' lurking in the dark shadows of your personal alley, waiting to jump you and knock you off your perch. I am talking about the downside.
As with most gifts from the blue, this one comes with a certain limitation. The fashion isn't for a man; it's for a woman. As the author of Vincent Calvino I can assure you that he's not into cross-dressing. Thought I leave that option open for future novels in the series in case I get stuck for a novel idea. If you want to dress your wife, girlfriend, secretary or other woman you feel fits the noir black fashion in the Calvino collection, take out your credit card and order the whole wardrobe.
This fashion collection all comes at the wrong time in my career. My agent was in the midst of a steamy negotiation for a bondage apparel deal as this classic Vincent Calvino collection has gone viral (in certain sections of Sukhumvit Road).
If there is a catwalk show featuring the clothes, I'll get back to you. Assuming I am not too absorbed in checking my hourly ranking as a mystery author. I am waiting for Amazon to come up with algorithms that factor in a clothing line based on a series character. I should do quite well. And Amazon's gnomes will no doubt figure out a way to package a Calvino book, shirt, and shoes with a free shipping offer. Before long, I suspect Amazon will have suggestions for Calvino inspired lawn mowers, nail clippers, and cameras. Those are all potential Perch Placement Events that will keep me writing and hopeful for a better future.
...
Read More>>

Subscribe to this feed • Save to del.icio.us • View CC license • Email this • Email the author • Add to del.icio.us • Digg This! • Share on Facebook • Discuss on Newsvine • Add to Mixx! • Twitter
| | |
| --- | --- |
| Posted: 10/11/2012 8:52:20 PM | |
A writer's life is not unlike a drama with three acts. The first act ends around 39 years old, the second act runs from 40 to 59 years old, and the Third Act is 60 years old until the final scene.
Some writers start their career late in the second act of their lives (e.g. Raymond Chandler). Other writers never make it to the Third Act (e.g. George Orwell, F. Scott Fitzgerald, Raymond Carver). Some like David Foster Wallace don't make it alive out of the First Act.
The Third Act for a novelist who survives that long is becoming more common. Sure, authors like Christopher Hitchens bow out early in at the very top of their Third Act performance. Georges Simenon and Charles Bukowski continued to produce excellent work during their Third Act. Some say that the Third Act produces works that don't quite measure up to the early work. Writers wear out, they run out of ideas, energy, focus and the passion that is required to produce a professionally written novel.
The authors who write about Bangkok are mainly Third Act authors: Timothy Hallinan, John Burdett, Collin Piprell, Dean Barrett, Alex Kerr, and myself. We've all been around a long time. At the beginning of the Third Act , an author should take time to reflect on his first two acts. After finishing that self-appraisal, he can assess the possibilities that lay ahead. Does one have anything left to say? Many authors as they enter the Third Act believe that they are only just hitting their stride. That sixty is only a number, and besides, is sixty the new fifty? There is no way around it. Sixty years makes for a lot of candles on a birthday cake.
It is a sobering sight—all of those lit candles against a tropic night on a Thai beach, a tiny bonfire of vanities burning bright. Each author turns that bend in the road and sees the stretch of the road ahead in a different way. In Thailand, the civil service, the military and corporations retired sixty-year-olds. Turn them out to pasture to make way for those behind them. There is no age expiry date for writing novels. With a number of novelists, their books remain pretty much the same and hitting the Third Act doesn't change their style or content. They keep plugging way for the fans that followed Act one and Act two, hoping to bring in new fans along the way. It would be as if Picasso stayed with his 'Blue Period' and kept it blue to the bitter end.
Colin Cotterill joined the Third Act club on 2nd October. I single Colin Cotterill out because I've just returned from his 60th birthday party in the southern Thai province of Surat Thani. Colin did a reasonably good King Lear performance on the beach in front of his house as he railed against the forces of nature (it did look like rain most of the time) that carry men forward through time.
In his separate Hobbit House where he writes, his handwritten notes for his latest book was open on a small stand next to his computer. His computer was turned off. He wasn't writing. He was entertaining. I flew in from Bangkok, another Canadian friend flew in from Chiang Mai, and a Norwegian friend drove up from Phuket, his romantic interest from Japan and six German nationals descended on his compound. Colin met my plane at Surat Thani airport and took what he called the romantic route from the airport on a 2-hourdrive to his compound. It was raining. His Japanese companion was in his blue Brio following the pickup, no doubt wondering why she was in a separate vehicle.
Colin arrived at the provincial airport driving a clapped out manual shift pickup. Also waiting at the airport were the six German nationals. They were on my flight but I didn't see them on the plane. I didn't see much of them after Colin loaded them into the back of his pickup. The Thais at the airport smiled. They must have thought a new human trafficking ring had been organized with Colin driving, me riding shotgun and four teenaged Germans in the back. Or may be Colin does this on a routine basis. I didn't ask.
The father of one of the German teenagers is a famous German journalist who had written a profile on Colin a year ago. He brought his son and his son's friends and another journalist along to celebrate Colin's birthday. We all came to Colin's place to celebrate the start of his Third Act.
His six dogs occasionally fought. His guests mainly drank buckets of wine and beer as they ate fresh crab, prawns, mackerel, squid, and spicy Thai salads. The German teenagers, it turned out, hated fish or anything else from the sea. They were lobbying for real meat. So sausages were specially made for them. We were reminded not to mention the war. The German editor broke the ice as we all stood looking at the sea and said every sixty years or so German liked the idea of holding onto a beach much like the one Colin had built his house on.
There was a birthday cake and candles—the kind you blow to make a wish and appear to go out only to pop back to life. Colin kept blowing the trick candles for some time before he gave up. He understood that candles were a birthday metaphor gift. One author to another, letting him know that at his newly advanced age, there is no choice but to continue to huff and puff and sooner or later the candles will go out. Meanwhile, Colin's unfinished novel left untouched during the days of celebration, like the trick candles, was a reminder that nothing is ever as easy as it seems and the end is rarely in your control.
A delegation of Thai neighbours, including local politicians and fishermen showed up. They inspected the German. The head fisherman seemed to think the teenagers might make a reasonable crew until he found out their anti-fish bias likely made them a bad choice for fishing for squid and crabs.
The night of the birthday there was a huge bonfire on the beach, the flames fed by people throwing on dead palm leaves. On one side were four tents on the beach where Colin housed the Germans. The rest of his house had places for others to sleep on the floor. I tried to convince the Laotian NGO worker, an extremely kind woman, to type a couple of fables into the book that Colin was working on. I suspect the Dr. Siri novels were written this way during Colin's Second Act. I suggested he expand that process in Act Three. I put it to him, that in return for not mentioning the war, each guest should add a page or two in their own language: Laotian, German, Norwegian, Japanese, Thai, and Canadian. It would save on translation cost down the road. Besides, when an author enters the Third Act, he needs not just inspiration but all of the help that he can find from others wandering past the office space.

Colin might be hitting the final stretch like the rest of us third-act authors, but I suspect he will surprise us all. I call it Colin Renewal, a reset, a new First Act. You see, Colin has bought a new car, built a new house, and has a new, beautiful Japanese partner. That's not the kind of thing someone who is winding down is expected to be doing. Building, designing, hugging, and dancing on the beach.

He said it was his best birthday party ever. He didn't want us to leave. I can understand why he felt that way. Once the party ends, and we all leave, he has to go back to his Hobbit House and finish the book that awaits him. The book he started late in the Second Act, now requires a newly minted Third Act author to reach down deep and find something he'd always wanted to say but had ever found the words until that night on the beach with the moon in a clear sky reflecting on the sea, and bonfire burning and an international cast of friends, he might have found himself understanding that when that many care enough to make a journey to the middle of nowhere to sing happy birthday on a remote beach, it is worth carrying on.

...
Read More>>

Subscribe to this feed • Save to del.icio.us • View CC license • Email this • Email the author • Add to del.icio.us • Digg This! • Share on Facebook • Discuss on Newsvine • Add to Mixx! • Twitter
| | |
| --- | --- |
| Posted: 10/4/2012 8:52:16 PM | |
Books offer a choice about the color of the pill you are asked to swallow.
In the classic film circa 1999, The Matrix the color coded pill became a metaphor for a person's desire to connect and dissociate with the reality of existence. Swallow the red pill guaranteed the consumer delivery into a frightening world of grim reality of life compared with the blue pill that offered an intoxicating illusion of normality, comfortable and vivid but ultimately false.
If you are a writer, you have to choose which pill you are offering to readers.
"Michael Chabon May Just Be the Perfect Writer for the Obama Age" is the title of Kathryn Schulz's review of Michael Chabon's novel Telegraph Avenue
,
What he aimed for, Chabon says, was to combine regret and loss 'with a slight sense of optimism: that there is going to be a next time, that we get these moments and they do recur.'
The intriguing part of Schulz's review is about the cameo appearance of Obama giving one of his uplifting "Yes, we can" speeches in 2004. Obama was blue pill all the way until he reached he reached the White House where he swallowed a bottle of red pills after that first day in the Oval Office. As a parable for being electable, it rings true. Promise the electorate the red pill and smear your opponent with rumors he has already taken the blue pill and is lying to you about what he's found reality to be.
Books, like political candidates, make promises to the public. Choose me. That simple request is never as simple as it sounds. The red-pill literary adventure takes the reader on a dark, bumpy ride where seriously damaged people, institutions, and cultures are shown for what they are. Noir is the pathway of the red-pill world of crime fiction. If you want blue-pill crime fiction, don't buy a noir novel as that is exactly the world you wish to escape.
That brings me to the main point. Blue-pill books and politicians offer escape from reality. They knock off the sharp edges, polish the glass until it sparkles, and promise hope and redemption. The red pill boots you headlong into a world where you won't be safe or saved. It is a place of doubt, uncertainty, inequality, intolerance, and hatred. No one gets elected on a red pill platform. The possibility of redemption is a blue-pill experience.
The considerable power of hope and redemption in daily lives was once the exclusive reserve of religion or other sacred institutions. In contemporary times, there is the emergence of a third period: let's call it the white pill. Religious fundamentalists who come from divergent religious backgrounds swallow the white pill, which turns non-believers into demons and infidels and believers into members of the purity and loyalty brigade.
The white pill suppresses tolerance, compromise and critical analysis, and substitutes overwhelming feelings of hatred and revulsion directed toward non-believers. Swallowing the white pill is entry into the world of black and white, where enemies are demons and are to be destroyed. Violence and death follow like night following day. A third-rate YouTube film or a cartoon throwing mud inside a sacred zone has the capacity to activate the rage center of white pill users and send them into the street with banners, guns and bombs.
The white-pill people are fact-hating fanatics who occupy in a twilight space between those who take the red and blue pills. They have their own books, leaders, and manufacture their illusions that remain resilient to evidence, argument, or persuasion. White is good. Everything non-white is evil. Their world is a simple binary one where instead of ones and zeroes, it is good and evil. And a fanatic high on a white pill is highly sensitive to a slight to his or her idealization of sacredness. They will die before giving up their illusions.
As I write this essay, I think of the three red pills in the bottom of my literary cabinet—Phnom Penh Noir, The Orwell Brigade, and Missing in Rangoon. If Kathryn Schulz's review of Telegraph Avenue is right, I have chosen to go against the age where the queue is long for the blue pill. And I would add even longer for the white pill. For red-pill writers, we are left to the margins, hawking our visions to people racing past, taking a sideways glance, before rushing ahead to find a pill that promises salvation and redemption.
Reading is hardly on the radar screen of most people. It's called a leisure activity. A private pursuit for those with time and money for books, who are mainly seeking a way to entertain themselves or experience adventure or thrills, and occasionally a book might inform and instruct them about a feature of the world that attracts their interest and attention.

The world of color-coded pills is far more serious in the political realm where powerful interests use huge wealth to write the population of voters a prescription. Sometimes like Romney, they are caught telling an audience of the red-pill vision he really has of them. It is hard to recover once you've changed the prescription. That is true whether you are a politician or author.

As Obama found out after his election, showing the blue pill can get you elected. Once in power, switching to the red one will turn supporters bitter and resentful. 'Why I Refuse to Vote for Obama' in the Atlantic is the fall out by someone who feels Obama's prescription in the last election was a swindle. The relationship between authors and readers is no different. A book also makes a promise to the reality that a reader can expect to find. Promise one thing and deliver another, and the reader will refuse to buy the next book.

Most people will vote in large numbers for candidates who promise them the white-pill program. They also want books that deliver the experience of the white pill. They demand the death of blasphemers wherever they can be found and destroyed. Next time you are thinking about buying a book or voting in an election, ask yourself—what color of pill is being promised. In many places, the red pill is illegal. Offer it you go to jail. Swallow the red pill and you are sent into exile.

The danger is a world where the blue and white unholy alliance comes to power and bans the red pill. Meanwhile, in many places, you still have a choice. Whatever you decide is your poisonous relationship with reality, will it be the world you were promised? Or will you be left with a hangover and as Chabon's fiction suggests, you suck it in, try again, and again. Your head striking the wall until the wall gives in.

...
Read More>>

Subscribe to this feed • Save to del.icio.us • View CC license • Email this • Email the author • Add to del.icio.us • Digg This! • Share on Facebook • Discuss on Newsvine • Add to Mixx! • Twitter
| | |
| --- | --- |
| Posted: 9/27/2012 9:09:29 PM | |