| | |
| --- | --- |
| | ABOUT |
| | My website |
| | International Crime Writers Blog |
| | Email me |
| | |
| | |
Blog Archive May 2013
Some weeks provide an avalanche of events—enough to fill a book of essays. For example, a German national who'd finished serving a prison sentence in Australia for theft and drug law violations, escaped his private security guards at the Bangkok airport and had a two-day holiday in Bangkok before the police caught up with him. Carlo Konstantin Kohl, a German national, with an Australian accent aged 25 (a contemporary of Mr. I Am Awesome, the 25-year-old Thai drug dealer with five wives I wrote about a couple of weeks ago) was being extradited to Germany. Here's an account in the Australian:
Kohl's escorts were two private security personnel whose job was delayed at Suvarnabhumi Airport due to bad weather. The security detail had decided to wait for the onward flight to Germany in the transit lounge with Mr. Kohl. It was a long overnight wait and the guards fell asleep according to the Bangkok Post (although the Australians denied that). Mr. Kohl decided he wasn't all that anxious to return to Germany where he was wanted on parole violation charges. According to local reports he wandered around the airport for hours.

Mr. Kohl on his way to a foot massage in Suvannabhumi Airport in Bangkok.
The Bangkok Post:
His escape from the airport confirmed that it has more exit doors than Bangkok's illegal gambling casinos—300 doors—and is far less secure. Any one of the airport exit door, apparently, is easily disabled by snipping an electric wire.
Rumours are unconfirmed that Immigration—having discovered all of these doors may be in surplus for emergency use—might convert a half dozen of these surplus exits into Fast Track lanes for those willing to pay an extra fee. Of course, I made that up, but anything your can conceive in your imagination just might have a counterpart in reality in Thailand.
Thais love stories about handsome young rogue farang giving the authorities in Australia and Thailand a dual set of black eyes. He was bound to endear himself to a Thai audience by stopping at the airport for a foot massage before high tailing it to Soi Cowboy. The local press played the sanuk angle of the story as if Mr. Kohl's tour of Bangkok's hot spots was a blend of Home Alone and Hangover II. A handsome young rogue for a star, fumbling, sleeping Australians, and a tour of the hot spots of Bangkok.
Establishing the facts has been illusive. Like objects in zero gravity, facts in Thailand have a habit of floating free, bouncing off the shell of reality, untethered they remain fluid and forever just out of reach. The Thais have a way of dealing with facts that appear to incriminate someone important—those facts fall into the category of insufficient evidence. In Kohl's case no Thai officials of rank were incriminated (that was news in itself). His romp through Bangkok was an adventure, and besides everyone was quite happy to lay the blame the Australian security detail—including the Australians. Falling asleep on the job? That could never happen in Thailand. What about all of those doors Mr. Kohl rattled? Some of the doors had been kept open for the convenience of airport staff. A bolt hole might be useful when the time comes to sneak a cigarette, hide from the boss, or to find a cozy spot for a quick nap.
Even the circumstances of Kohl's capture/surrender/ambush—take your pick—are unclear. He was arrested in the vicinity of the German Embassy (the exact circumstances of his apprehension like most other aspects of the story are vague). One press report said Kohl had applied for a replacement passport two weeks earlier. That was the first clue that he'd been enjoying himself in Bangkok for some while. And he'd been flying under the radar.
Hadn't anyone notified the Germany Embassy in Bangkok to be on the outlook for him? Apparently not, but facts like elementary particles in physics apparently only allow you to measure location or velocity. I'd hazard a guess that Heisenberg's head would have been spinning to explain the facts in this case. Was Kohl on his way to the German Embassy to pick up his replacement passport? Did he suddenly have a pang of guilt and walked up and turned himself in to a Thai cop he saw on the way to the embassy? We don't know those facts. You can't find them anywhere in the press accounts.
In one week, Carlo Konstantin Kohl managed more front page coverage in the English language newspapers than the Prime Minister or her brother—the one who was prime minister when the airport with the 300 exit doors was opened, and the one through which he exited some years ago. This was exactly the kind of story the local media love—a Hollywood bankable rogue, keystone private cop foreigners, and no one of importance had been accused of corruption, thuggish behavior, or displays of gross arrogance. Allegations of negligence, well, to complain about that is to complain about the oxygen we breath. Though the Thai press had a report that the taxi driver that drove Kohl from the airport into Bangkok charged him Baht 3,000 for a ride that normally would cost under Baht 300. It's not certain Kohl was aware that he'd been grossly overcharged. I suspect his gave the driver a hundred dollar bill. Unless after his foot massage Kohl made a trip to one of the airport exchange booths.
With a bit of time to reflect, the Bangkok Post ran editorial suggesting that if Kohl could use a coin to open a security door at the airport, well-trained terrorists who'd been trained with escape and evasion skills could easily have popped open all 300 doors at once.
Kohl, who was fined Baht 6,000 ($200) and given a two-year suspended sentence for illegal entry, later conducted what appeared to be a workshop in front of about 50 officials who watched Kohl show how he had used a coin to open a security door and how he cut the wire. It was less a reenactment of the crime than the usual photo op the local papers run of a foreign guest speaker, guru from abroad, holding one of those seminars at a five-star hotel, lunch included, for the professional development and the transfer of foreign know-how and technology.
Kohl's fun holiday in Bangkok overlooks one or two issues that I've not seen raised in the press accounts. Shouldn't someone be asking the question as to whether there are protocols that require foreign police agencies, or private security firms used by law enforcement to transport prisoners to other countries, to notify local authorities that a criminal will be passing through as a transit passenger? Wouldn't the Thais like to know in advance of arrival of someone like Mr. Kohl at their airport? Would they have rules to be observed such as don't fall asleep in the transit lounge while escorting a prisoner? Can any serial killer show up in the custody of a couple of sleep deprived private security guards, take a power nap in the transit lounge, and let their charge take a tour of the city? What other people or things are going on in transit lounges that Thai officials might be interested in as a matter of public security and safety?
Or is this the international transport of prisoners one of those black boxes, like the renditions the Americans ran out of Thailand for some years, where flights come and go out of shadowy world with a wink and a nod? Do other countries have procedures that set out what notices and process must be complied with in flying prisoners in and out of their country?
The problem with such questions is they take the fun out of Kohl's story. Better to keep a lid on the broader implications of what happened by limiting attention to the official response which is to send a crew around to rattle the 300 security doors at the airport. The questions are also embarrassing to both the Australians and the Thais. By asking why the Thai authorities didn't receive advance notice of Mr. Kohl's arrival raises the uncomfortable possibility that the Australians were under no obligation to give the Thais any such notice.
Credit must go to Mr. Kohl was exposing the security problem at the airport. Additional credit is due for establishing the abiding metaphor whenever an influential person is facing a 'fact' that causes a major loss of face and serious criminal charge—he will find 300 exit doors, and one of those door will allow him to escape. Call it the 'insufficient evidence' door.
The more interesting story this week was the explosion and fire that destroyed a carrier lorry loaded with six foreign luxury cars that somehow had entered the country and avoided import duties, and the parties have links to major politicians and government officials.
The six luxury cars have caused a turf battle between the police, customs, revenue department, and the anti-corruption agency—that no doubt other agencies will seek to have the cars and jurisdiction under their authority. Doors. 300 doors, and the question is which doors will open and close before the mystery of who owned and imported the six luxury cars. Next week, reading the local press will be an exercise in observing multiple doors opening and slamming shut like a nineteenth century prison cell. Could the Australians take the fall for those luxury cars? Did someone fall asleep again? Somewhere, official wheels are turning, door knobs to power tested.
| | |
| --- | --- |
| Posted: 6/6/2013 8:54:13 PM | |
One of George Orwell's most enduring essays is titled Shooting an Elephant. In the 1930s George Orwell served as a colonial official in Burma. He was a sub-divisional police officer. Young Orwell's hatred of the idea of empire was only matched by his brutal contempt felt toward the unfortunate souls who were the subject of the imperial occupation of their homelands.
His iconic essay about an elephant goes to the heart of imperialism—the linkage of the despot with the expectations of those they exploited. The story begins when the narrator received a phone call about an elephant on the rampage into a bazaar. He takes out his old .44 Winchester, knowing it is too small a weapon to down an elephant, but as a means to frighten the beast. The elephant is in musth and the mahout has taken the wrong turn ending up twelve hours away.
All the weapons in the empire are with the authorities. The locals were without weapons and as a result 'were quite helpless' against the raging elephant. They could only stand to the side and observe destruction of a hut, fruit-stalls, the eating of produce, overturning a van, and killing a black Dravidian coolie who'd been stomped to death in the mud. And wait for the British colonial officials to handle the problem. The locals were victims. They were passive. Their alternative was to wait for those with guns to arrive and save the day.
Having laid eyes on the dead man, the narrator sent a servant to a friend's house to borrow an elephant gun. Once he had the elephant gun, the mood of the crowd changed from indifference to an expectation of harvesting the elephant's meat once it had been shot. A small army of locals followed on the heels of the official to the paddy field where elephant as found quietly eating bunches of grass.
The danger had gone out of the situation. The elephant was calmly feeding itself and no more dangerous than a cow. The official had no desire to kill the elephant. And saw no compelling reason to do so until he saw the crowd of 2,000 Burmese watching and waiting. It was not idle interest that drew them to the field. He represented authority. He had an elephant gun. They had only their hands. "A sahib has to act like a sahib…" He had no choice but to act out his role; it was impossible not to kill the elephant not because the elephant was a danger but because an armed man without resolution was no longer to be feared. He must never show fear to the natives. A fearful man without resolve no longer projected that he was the legitimate master of their destiny. He might be despised but he would be feared and that was the framework on which empire rested.
The killing of the elephant was a messy affair with multiple shots and great suffering by the beast, taking a good half an hour to die. Afterwards, opinion was divided as to whether the official had done the right thing by killing the elephant. What made him happy was that the coolie had been killed. It had been his death that gave justification to the death of an elephant that was no longer a danger to anyone. The shooting had been more of an execution of a murderer. No one could deny that murder had happened. While an elephant couldn't form the intention to kill as a human being could nonetheless having stomped to death the coolie, no one could say that the shooting had been wrong.
Orwell's parable about an elephant can't be disconnected from the context of empire. A modern version of the story happened last week in Thailand. A Thai nurse and her husband visited Lae Paniad Elephant Kraal in Ayutthaya. The nurse had offered an elephant named Plai Big some food. The elephant grabbed her arm and pulled her toward him, stomping on her with his foot. Her husband rushed to help his wife. Plai Big gored him. The nurse died from massive injuries to her internal organs. The husband was seriously injured.
Like Orwell's Shooting an Elephant, an elephant, a 27-year-old 3 tonne male, had killed a local. In this case, the dead woman was a nurse. She was hardly a member of the coolie class that featured in Orwell's story. No one ran to the authorities and asked that a police official be dispatched to shoot the elephant. The Thai resolution had a different outcome. A ritual was performed at the elephant kraal. The ends of the elephant's tusks were sawed off by 20 centimeters. The purpose of the ceremony was to free the elephant of the spirit of the dead woman. It was reported that Plai Big would never work with the public again. . Plai Big fate will be to spend the rest of his days in solitary confinement.
In Orwell's story there was a tragedy. In the contemporary Thai story there was a similar tragedy. When foreigners occupy another land, the need to maintain fear and authority ruled out any other option. It was never about the elephant; it had always been about monopoly to use violence as the means to show resolve. Nothing short of pulling the trigger to kill could establish such resolve was beyond question. To maintain order was to show that resolve even though it wasn't necessary. And maybe that is the point of Orwell's story. Indecisiveness in the exercise of force would have been a sign of weakness. One man in a crowd of 2,000, if weak, would not survive. He would be laughed at. And the last thing a man with a gun can allow is laughter at his expense.
In Thailand, the dynamic was different. By not shooting an elephant, no official would not expose to belittling laughter. The elephant didn't have to die to maintain authority and the right to use force. Rather than violence as a response, a ritual as held to free the elephant from the spirit of the dead woman. A metaphysical resolution rather than physical violence ruled the day. Also in the Thai story, the elephant had a name, an age, and an identity. In the Orwell story, the elephant, like the locals and the dead coolie were nameless as was the elephant
The tragedy of elephants isn't that they sometimes kill people but the aftermath of the survivors, what they expect to happen and who is in charge of the weapons. The elephant in both cases acted out of hormonal heat, a moment of rage. Compare that with the choice given the very human foreign armed policeman who when pressed by size of the crowd around him killed the elephant in cold blood. It is the premeditation, the thought process, the politics that are disturbing and haunting. The elephants shame us by showing how we calculate in our killings, and the rituals of healing is only available once a community draws upon its own traditions without interference from the outside.
From Syria to the West Bank to Pakistan, Iraq and Afghanistan, the expectation that killing the elephant is required has not changed from Orwell's Burmese Days. The lesson is clear occupiers use terror and fear to maintain control over local populations. It is also clear that the lesson hasn't been learned as the forces of imperialism are tested just as they were Orwell time, and those who are occupied welcome the raging elephant because he provides thousands to judge for the first signs of weakness to embolden themselves to take up weapons against the elephant killer who are not one of their own.
| | |
| --- | --- |
| Posted: 5/30/2013 9:05:17 PM | |
Re-imagining Henry Miller
In Bangkok and New York, Barney Rosset told me many stories about Henry Miller. He'd published Miller and knew the author personally. My views about Henry Miller have been shaped by Barney's recollections over the years. Richard Seavers also had a long history with Barney. A friend gave me a copy of a memoir written by Henry Miller's Paris friend and contemporary, a photographer named Brassaï.
Henry Miller The Paris Years was published in 1995 by Arcade Publishing, a press run by Richard Seaver. I'd met Richard Seaver in New York at Barney's loft in the East Village and again at Barney's table at the National Book Foundation award ceremony in 2008 when Barney was given a lifetime achievement.
With those connections, I was the right audience for Henry Miller: the Paris Years, having know a couple of the people who were close to Miller for years. You can be close to someone without knowing the interior layers that go deep, where stuff is hidden, forgotten, fractured into a prism like mystery. Even when you know them well, years later when you seek to recall what was said and done, the memory can play illusive games.
I am weary of memoirs written by the friends of famous people. It is natural that they will put themselves in the center of the famous friend's life. That is a danger. I wondered if Brassaï fell into that trap.
Brassaï was one of Henry Miller's friends. The one result of fame is that an author's friends have their memories and correspondence ready for a memoir about the author, his life, habits, attitudes, weaknesses, ticks, and philosophy.
The book titled Henry Miller The Paris Years ends with, "Henry left France without tears, without regret, and without looking back, as if the ten years he'd lived there had simply vanished." I wish that Barney were still around to ask if that was his take on Miller's years in France. His time in France had made Henry Miller's reputation; it has established him as a writer, a genius, and a literary tiger. I have been around expats a large portion of my life—it is very rare to find someone who has lived in a culture as Henry Miller did in France would discard the place like an old sweater.
Henry Miller's Tropic of Cancer, and his other major works, were written out of experience that was processed through a hyperactive imagination. His reality was the result of this creative process. The boundaries of fiction, make-believe, became the raw ingredients of life in Paris and cooking up an exotic confection. His books were not just exotic, they were—according to the Americans—obscene. The Tropic of Capricorn was banned. But for the efforts of Barney Rosset who spent a personal fortune on court battles (only stopping at the Supreme Court of the United States) started in the 1960s. Henry Miller's Tropic of Capricorn had established himself as a writer that upset officials who decided what could be read in the United States.
Understanding Henry Miller's Paris experience sheds light on his views on relationships, sexuality, identity, memory and imagination. Pornography is largely the legal conclusion from the conservative elites that the combination of those elements must stay within strict boundaries of propriety.
Henry Miller, according to Brassaï, a person was lucky or unlucky on whom they met. For a writer, who needed the constant input of new experiences, Paris brought him much luck in companions. If experience was fuel, the high-octane stuff came from two women. Anaïs Nin, born in Paris, American by nationality, a Spanish father, and Franco-Danish mother—the original globalized woman before anyone used the term globalization. She kept a diary that by the time Miller met her ran to 48 notebooks—but she dismissed them as 'bloody ejaculations." It was a relationship of conflicting attitudes toward literature, a writer's role, and the nature of reality. Anaïs Nin believed that a writer should stay bound into the moment of truth, not to filter it through imagination, which changed the reality to something no longer true. Henry Miller was at the opposite pole—where reality until processed and transformed by imagination would never become 'real' and fiction and myth were the techniques of this transformation.
Anaïs Nin was Miller's intellectual muse. Brassaï writes that during the two-year period that the Tropic of Cancer was put on ice by a publisher in Paris anxious about possible legal problems, Anaïs Nin guided Miller through multiple rewrites. It wouldn't have been the book that made his reputation without her tireless, patient pushing him to make changes.
Another woman, June, was Miller's sensual muse. She walked on the wild side. A woman filled with a huge amount of energy, men were attracted to her, and she exchanged sexual favors for money. As June's husband, Henry Miller didn't ask where the source of her money was coming from. It was no surprise to learn that Henry Miller admired the pimps who gathered at Chez Paul near the offices of the Chicago Herald Tribune, 5 Rue Lamartine, in the heart of Paris' red light district. He admired their power of women, their lack of shame, their sales banter and their disdain for ordinary work. They had a life style that Henry Miller idealized as one route to take in the rebellion against culture and those in authority.
June had, in Brassaï's view, a superabundance of life; she was one of those people with ten times the intensity and energy of ordinary mortals. If one is writing out of experience, hooking one's star to such a woman as June propelled Henry Miller into dramas that most writers would never dream possible. Her betrayals and lies created a stormy relationship. At the same time, passive women bored him. Such a woman was an open book. Miller didn't want that kind of woman.
Brassaï writes that Miller married June without knowing the basic like place of birth, name or family background He wanted mystery, someone who was unpredictable, unreachable, whose life and background remained vague and unknown. June was not just a siren, she was a cypher—one that Miller tried with his imagination to break the code. He failed in that goal, but his failure to decode June nonetheless set him on a journey that inspired him to write two brilliant books: Tropic of Cancer and Tropics of Capricorn. June felt committed to Miller; though he was a genius, and for her, he was the one true love of her life. For Miller, June was part of his expression of open rebellion against his Brooklyn upbringing. They were both displaced spirits seeking to escape old lives and create new ones.
One detail of Miller's writing habit concerned his daily routine of walking the streets of Paris. He was a great observer. He could only think on his feet. And that meant walking around examining buildings, people, activities until some thought—the Voice—would come into his head and he'd rush back to his room and sit in front of his typewriter as the cascading images, ideas, and expressions tumbled out of his mind and onto paper. He was less interested in the truth—thus his arguments with Anaïs Nin—then in stories he drew from observations. For Brassaï Miller's casual relationship with the truth was 'bewildering'. In Tropic of Capricorn, June emerged as a character filtered through imagination to the point she was no longer recognizable from the flesh and blood woman he had married.
In the end the well of Henry Miller's experience drifted away. He left Paris without a backward glance. Anaïs Nin drifted away. He slipped away from June. Having lost the city and two women who had inspired him, brought him the Voice that defined him, there is a lesson to be learnt for an author. If your work is dredging experience arises from the lucky strike of a gold mine of life, like all resources, sooner or later the gold runs out. The mine is an empty shell, a hole in the ground, and a hole in the heart. Only a few writers are lucky enough to find the perfect match of time, place, and companions that put him in touch with that Voice—the one that moves and touches not just the author but readers for generations.
In a book titled Chairs, I wrote about Barney Rosset's Henry Miller connection in a story called Star of Love. I had asked Barney if Henry Miller had discovered Bangkok would it have changed his life. Barney replied, "Totally. Absolutely. How could it have not influenced him?" In the end, Barney said that Henry Miller holed up on top of a mountain in the Big Sur. He had a security guard at the bottom where there was a dirt road. The guard's job was to stop anyone going up to bother Henry.
This was the author who roamed the streets of Paris searching for the Voice. The oyster had closed its shell. No more pearls would emerge. Brassaï set out how he saw Henry Miller's reality. Too bad there's no chance to ask Anaïs Nin if Henry Miller The Paris Years was filtered through the imagination factory—part illusion, part hallucination. Or does the author give the reader the unfiltered, unmediated truth. But the person I'd really like to ask is June. What would she have thought of this version of the truth? All these people are dead. Whatever the truth of their reality will continue to slip into the recycle bin of their reimagined lives once created for succeeding generations. A literary life that has the capacity for self-generating truths by those who knew the author is rare. We are reminded that truth rung through the active imagination of writers like Brassaï is part of what keeps Henry Miller alive in the minds of readers today. Oblivion is the alternative.
After finishing Brassia's memoir, and thinking about the big picture, the reader could say that Henry Miller was a lucky man.Luck has a great role in a writer's life. As I put the book aside, I felt I had been lucky to have discovered Bangkok when it was the Paris of the 1930s, a place where Barney Rosset, Henry Miller's friend, discovered my existence, making me a small piece in the chain of people who have written about Henry Miller.
Miller had Paris, while I had Bangkok pretty much to myself for the early years, and it was a place where I walked, explored, learnt a language and culture and the place where I found my Voice. Unlike Miller, I couldn't imagine leaving Bangkok for the isolation of a mountain top or, at the very least, not without stopping and looking back one last time to say a final goodbye to all of that.
| | |
| --- | --- |
| Posted: 5/23/2013 7:23:46 PM | |
16th Birthday Reading List
Dear Hunter,
Your mother, Susan, who is a long-time reader of my books, asked me to suggest a reading list for your 16th birthday. What books would I recommend for a 16-year-old? Every author and reader would suggest a different list of authors and titles. Choices such as these will be contentious. No list is ever complete. What I've recommended are a dozen authors as your son's first steps of the long-term journey into the world of creativity and imagination.
Some authors combine ideas or thoughts with creativity to create works of pure imagination. Other authors draw upon their experiences processed through a vivid, compelling imagination to create art. Others still like Orwell found political ideology and expatriate life the source for his imagination to take hold.
I've included a number of expatriate authors who have found that life inside another culture has given them a creative space for their imaginations to take flight. I pass along a list of recommended authors and titles with a warning: any attempt to create categories is a risky and dangerous business. The dangers have much in common with the idea of considering books according to genre. In that ghetto, books are confined to categories, for example, literary, crime, science fiction or historical.
In reality, works of genius transcend literary categories. As you can see from my recommended list, Orwell and Miller are found under more than one category—illustrating my point that genius refuses to be pigeonholed.
My categories, in other words, are broad guidelines, and aren't to be taken too seriously. They are rough signposts and signal my own personal taste and development as a writer. When I was 16 years old, I would have liked a nudge as what to read during my teens. You will no doubt find your own favorite authors and books along the way. Read them, too. Avoid, if you can, the latest fashion or trend. Books come and go. Only a few have the staying power to be read by another generation.
The works below have such staying power. The list isn't meant to be definitive. The list is a start; not the end. It is also eccentric and personal reflecting to my own biases, interests, values, and experience. Given that limitation, over the next year of your life, you might set aside time for reading each of them. Each of the works, deserves to be read at 16-years-old, and again at 26-years-old. Read them and reread them as you grow older and through this process, you may discover ideas, images, thoughts and visions that you missed in the earlier readings. And you will discover new things about yourself that life has bestowed.
If I had read them in the sweathouse of my youth, I can only wonder what impact that might have had on my life. As a birthday present, I send this list with the hope that your life long pursuit of books will benefit from this early start.
Thought and Imagination:


Jorge Luis Borges: The circle of Ruins, The Immortals, and The Library of Babel


Jose Saramago: Blindness, The Year of the Death of Ricardo Reis


Isaac Asimov: The Foundation Series
Experience and Imagination:

Louis-Ferdinand Celine: Journey to the End of Night


Henry Miller: Tropic of Cancer


George Orwell: Down and Out in Paris

Politics and Imagination:

George Orwell: 1984, Animal Farm, The Hanging, Homage to Catalonia


Margaret Atwood: the Handmaid's Tale
Expatriate Life and Imagination

Henry Miller: Tropic of Cancer


Graham Greene: The Quiet American


Lawrence Durrell: The Alexander Quartet


Somerset Maugham: The Moon and Six Pence, Razor's Edge

| | |
| --- | --- |
| Posted: 5/16/2013 8:52:38 PM | |
One Woman's Courage in the Line of Fire in Cambodia
An investigative journalists in Southeast Asia is like the person walking point into a jungle filled with booby-traps, snipers and ambushes. It takes a very special person to volunteer for walking point.
Bopha Porn is such a journalist.
She is a reporter for the Cambodian Daily. She is also a very brave journalist. Recognition of that bravery came this week with the announcement by the International Women's Media Foundation of 2013 Courage in Journalism Awards. Three awards were given for courage to three women from around the world. Bopha Porn was one of the three. She is the first woman in Cambodia to receive this award.
The citation that comes with the award reads:
"In [April] 2012, Phorn narrowly escaped with her life when the vehicle in which she was traveling came under heavy fire. Phorn was investigating claims of illegal logging in a protected area of the Cambodian jungle with another journalist and an environmental activist when gunmen with AK-47s sprayed the car with shots. The activist, Chut Wutty, was killed. Phorn's reporting on land and environmental issues, as well as her stories about criminal activity and human rights abuses, have made her the target of other life-threatening attacks."
I had an appointment with Bopha in Phnom Penh in April 2012. I arrived a day after Chut Wutty had been killed. I didn't know at that time the circumstances of his death or that Bopha had been next to him Chut Wutty when he was killed. We were meeting to go over final edits of her short story, Dark Truths, for the anthology Phnom Penh Noir.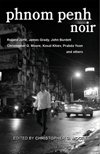 When I rang her, Bopha said she couldn't make the meeting. She said she wasn't in Phnom Penh. She asked if I could meet her where she was staying. I asked where she was, and she replied, "Near the Vietnamese border." Then she told me the entire story and how she was concerned that returning to Phnom Penh might be risky as she'd witnessed the killing of Chut Wutty, who was attempting to expose illegal logging. Twenty-four hours later, she was back in Phnom Penh. She couldn't stay away from her job at the Cambodian Daily. Hiding out wasn't in her nature. We had lunch and she told me her story.
In this part of the world, where illegal logging is often linked to government officials, witnesses to the murder of environmentalists, human rights activists, and others seeking to expose official wrongdoing are danger. She was absolutely right to find a temporary shelter away from officials who might seek to clean up the loose ends.
We talked several times that day and Bopha decided to return to Phnom Penh. The news of Chut Wutty's murder had gone out on the wires. It was international news
Following an extrajudicial killing, officials in this part of the world don't normally issue an order to kill a journalist who witnessed the murder once the eyes of an international audience are watching. If that possibility isn't open, other options present themselves.
According to Asian Correspondent the Cambodian legal system found that "Rattana was accidentally shot by a former employee of Timbergreen. The employee was sentenced to two years in jail on October 22, 2012 with 18 months of that sentence suspended. He walked free less than two weeks afterwards. While local NGOs called it a "mockery of justice"."
Bopha Porn has continued her investigative reporting from her base at the Cambodian Daily in Phnom Penh. Her courage makes her a role model for journalists throughout Southeast Asia. Reporters find themselves in situations where powerful vested interest with impunity from the law intimidate, bribe, or threaten the most brave of them. No one is ever paid enough money as a journalist to take a bullet for justice, freedom and fairness.
For someone like Bopha Porn, it has never been about the money. It has been about exposing those who have accumulated wealth at the expense of their nation, murdered others to increase that wealth, and destroy the natural resources along the way. Asia needs heroes in this struggle.
I can't think of a better one than Bopha Porn.
| | |
| --- | --- |
| Posted: 5/9/2013 8:50:33 PM | |