| | |
| --- | --- |
| | ABOUT |
| | My website |
| | International Crime Writers Blog |
| | Email me |
| | |
| | |
Blog Archive January 2013
Apophenia sounds like the name of a band from Macedonia sent to perform at the annual Euro Song Contest. The term was coined by Klaus Conrad in 1958 to describe a psychological state of a person who spontaneously made connections between unrelated events, people, object and infused that connection with a powerful, abnormal meaning. Apophenia began as a term to characterize a type of mental illness.
Over the years the definition of apophenia has broaden from a specialized medical condition to be used as a more general description of the mental states of gamblers, paranormal believers, religious believers, conspiracy theorists, lotus and mushroom eaters. The underlying impulse is the search for causation. It is difficult for a person to accept that randomness kicks out all kinds of events that aren't casually connected. Promise a casual connection and you'll find an audience for the connectedness you are pedaling. Politicians and economists exploit this mental need daily.
In Thailand, when someone famous is killed in a car crash. Thousands of people will buy a lottery number based on the number of the registration plate on the crashed car of death. Apophenia. Parliament is opened after consulting astrologers or monks (or both) for the auspicious time for the opening. Or a new cabinet minister wishes to arrive at the office at the most auspicious time to start his job. Apophenia. Thai culture is no different from most cultures. Cultures around the world, politicians, pundits and priests tell stories riddled with apophenia. It is a behavior so ingrained that we no longer see it for what it is.
And of course, apophenia is necessary condition state of mind for writers of fiction (and non-fiction). A mild case of apophenia is a novelist's secret weapon that brings readers and literary success. We spend our working days seeing spontaneous connections between unconnected events, people, and lives, and weaving meaning into those connections.
We experience a scene, a smell, a sound or a taste and our automatic impulse is to fill the patter into a story. Think of the last time you were on a train at 10.30 p.m. in a major city. The rush hour has flushed down that the time drain. People on the train that time of night are different from the rush hour crowd. Have you looked around and thought about possible connections among the strangers riding in the same carriage?
There's a middle-aged woman holding a boutique of flowers leaning in a space near the door. She could sit down as there are empty seats. But she stands with her flowers. Across from her is an older man. They are likely strangers. But you see a connection. They have matching gold bands on the third finger of their left hand. You suddenly tell yourself they are married. They are poor. They don't have a car. They've been out celebrating a wedding anniversary but it didn't go well. They had an argument and aren't talking. He gave her flowers earlier, and now they are a mockery of the silence between. That's apophenia. They are actually strangers. They've never met. They will never meet. Except in your mind.
Seated down the car are three workers in matching light blue uniforms with dark blue collars. There is a company logo over the front right pocket. The three women are in their late twenties. Two of the women are slightly overweight. They sit together. The third woman, who is prettier, sits four seats away between a retired man and a teenager with a New York Yankees T-shirt. They are going home from work. They are office cleaners. The two women sitting together have received pink slips from the company. This is their last day. The money in their pocket is all the money they have. The woman sitting apart has kept her job. The two women who have been laid off believe she has been giving sexual favors and that is why she has been kept on. In fact, when the three got on the train, there were not three empty seats together. They were separated not by choice but by availability. They haven't been fired. It is another workday, and they will be back on the job tomorrow.
That is a simple train ride. Someone with apophenia makes these spontaneous connections throughout the day, in every setting, and out of all the unrelated people, events and objects that she has experienced. If your mind automatically switches into this method of assembly of people and events to tell a story, then you have the right mental stuff to be a writer.
There is a bit of insanity in a writer. Normal people—meaning those who rarely write out of imagination (except for expense account vouchers) live in a different mental world. One separated by how one goes about interpreting patterns, meaning, and purpose from ideas, thoughts, images, objects, the driftwood of materials that lands on our beach each day.
Apophenia is our brain trying to make sense out of unrelatedness of things and people we experience. We recoil from randomness and chaos. We don't go around telling ourselves there is a pattern in everything, and that, if one peers long enough, there is a connection of meaning. But our behavior suggests that we don't have much free will to do anything but continue to make such connections. What appears to be 'noise' in the system is merely an invitation to an artist to interpret the 'noise' as have a relationship among the parts and those parts put into a whole suddenly are meaningful.
Most people can't resist being seduced by such connections.
People who claim to see images of religious figure in a toasted cheese sandwich or in clouds are an example of apophenia. It isn't only religious people who suffer from this condition. So do gamblers who see connections that aren't there. Astrologers, mystics, drug users, and others occupy a world where the lego bricks of reality are all around them and they spend their time assembling castles in the sky.
Films like the Twelve Monkeys and The Matrix tap into our inner desire to embrace apophenia. Blue pill, red pill choices of how much apophenia you can handle is an enduring metaphor of The Matrix. Films like these tapped into that apophenia that lurks below the surface in many people, drawing connections between all kinds of unrelated persons, events, and places with patches of non-linearly woven into the fabric of the story. Philip K. Dick, the science fiction author, took drugs, which he claimed opened a gateway to a secret knowledge or insight into an underlying, unseen casual agent that connected everything, fleshing out a deeper meaning. He also thought that he saw a stream of gold light radiated from a fish necklace. Drugs. Did I mention, Philip K. Dick linked this vision with the drugs he'd taken?
Mystics and religious figures take apophenia to the logical extreme—all of the world is information and all of that information is interconnected. Seeing this unified oneness is enlightenment.
An epiphany is making a connection between two unrelated events that illustrate a deeper meaning, and underlying casual connection others have glossed over or ignored. Science has such moments.
A powerful emotional experience can create the need to creatively connect that experience with unrelated events. Kurt Vonnegut's novels are an example. During WWII Vonnegut had been a prisoner of war in Dresden. He was in the city when Allied bombers fire bombed it turning "the cellars where 135,000 Hansels and Gretels had been baked like gingerbread men." Slaughterhouse Five was his way of connecting the unconnected into a meaningful story of massacre. Other novels danced around that event, drawing from that experience.
What vests a fiction author with the mantle of credibility over another author who can turn a phrase just as well in the contest to attract the attention of readers? Many factors come into play. But one element does matter when we read a narrative that asks us to believe in the connection between people, events and it can be summarized in three words: "I was there."
I bear witness to the experience. I saw the bodies, experienced the terror, suffering, pain and horror. On the train, I saw the woman holding flowers on her way somewhere. I connected her, the flowers, a stranger across from her into a story. Other people in the train had their faces in their iPhones or iPads, with the connections uniting their world being made online for them in a digital world. The nature of what we mean by 'experience' is evolving from the world of Kurt Vonnegut. We shelf life fire exercises for computer simulated games. Predator aircraft for manned fighters. Slowly we are removing ourselves from the world of first hand experience where all that unrelated, confused, and random bits float, collide, bounce off each other, waiting for someone to connect the dots.
Readers still seek to know the meaning of unrelated things and events. We thrive on clean, cool, compelling connections, ones that give us a sense that our ideas of causation have not been violated. Chaos makes us frightened and lack of casual connectedness frightens us even more. Evolution has wired apophenia into us allowing us a convenient way to experience the world. Even though some of the attributed causation may be false, or the connections turn out to be dubious and phony, apophenia is what gets you through the day and night. Rather than a definition of insanity, at the least in the mild forms, it may be a precondition to remaining sane.
We look to the imagination of an eyewitness to bring us to where he or she stood and we want to know what it was like for the small golden fish to radiate the meaning of the hidden universe where all things are connection in a vast empire of information.
Next time your financial advisor or best friend emails you with a surefire way to make a financial killing, you can reply that you are waiting for the average rainfall in Vancouver in October to correlate with average number of tourist arrivals in Bangkok for the month of December in order to trigger a sell order for your shares in Apple and to execute a buy order in gambling casino business in Cambodia.
After you finish this essay, pick up any newspaper, go to any blog read what the writer has to say, or flip (or scroll) through the book you're reading and give the author a rating on the apophenia on a scale of 1 to 10. Assign a '1' is for no connections of unrelated events or things. Give a '10' for so many such connections and offering a causal bridge linking them all that the person is insane or enlightened. Remember the greater speed in making patterns from data, the higher the IQ. That's right. This is what is tested when given an IQ test. We have a cultural bias that we all buy into—slow pattern-making means a person is mentally less capable, less bright, and less able to pull together, assemble the correct pattern in front of him.
It seems we suffer either way. When a person finds it difficult to draw patterns from unrelated symbols, events, or experiences, means he has a low IQ. But the person who easily finds the underlying causes that spontaneously brings meaning to unrelated things has a high IQ. How effectively you deal with such pattern making determines whether you are crazy, stupid, or on drugs. Finally ask yourself, what rank would you assign to yourself in the way that you connect unrelated events and experience.
After all, one thing is certain: Only you can say "I was there." And only you can also say that in Twelve Monkeys and The Matrix only an imagination created that space. No one was ever 'there' and the Hansels and Gretels gingerbread men are not the same as a 135,000 people who had been incinerated while Vonnegut had survived. The science fiction inside Vonnegut's head didn't spring solely from his imagination; his way of connecting events came from the way things had been connected during his WWII experience. Everything Vonnegut wrote connected back in one way or another to his experience of the firebombing. He had been there. And he took us there with him, connected us to those events through his novels.
(Originally published 25 May 2012)
| | |
| --- | --- |
| Posted: 1/31/2013 8:02:30 PM | |
AUTHOR'S DEDICATIONS IN SECOND HAND BOOKS
What does an author do when he sees a secondhand copy of his book in a bookstore? I have been thinking about this having recently seen a secondhand copy of The Wisdom of Beer.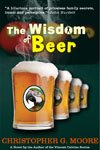 As I can't cover all second hand bookstores, I'd like any reader who finds a copy to feel free to write a dedication in the book on my behalf. I understand that after exhaustive studies, academics have concluded that a book dedicated to a famous person by the author fetches a much higher return on the second hand market.
In a time of bookstore closures worldwide, I'd like to help the bookstore owners increase their revenues. They should encourage customers to form a self-help group to write those special dedications for The Wisdom of Beer (or any other book you might find of mine).
I have a few suggestions for dedications to be inscribed in random, dog-eared copies of The Wisdom of Beer.
I am positive that you will come up with much better material.
The Wisdom of Beer dedication list might include the following:

To my dear friend, Donald Trump,
Thanks for the napkin from A60 Club with your hand-written essay on the Kenyan birth certificate. I am sorry it arrived too late to include the appendix as you suggested. Should The Wisdom of Beer ever be reprinted I will urge the publisher to place it in the new edition.
Former New Yorker, Vincent Calvino

For my personal mentor, Cesar Millan,
Thanks for writing to tell me that The Wisdom of Beer has become the Dog's Whisperer's bible. Sorry your show has been cancelled. But I can't really change the parrot in the book to the Boxer mixed breed. But I appreciate your idea.
Best wishes from me and all of my pack of six, CM

For Lindsay Lohan,
Your probation officer gave asked that I send you The Wisdom of Beer to help keep you out of jail. I am proud to know the book will guide you to a new and better life.
Keep sober, Chris

For Mitt Romney,
You can reject beer or wisdom, but if you throw out both you can't expect the Republics to ever win a majority. Please keep The Wisdom of Beer as an alternative bible to rebuild your shattered life.
Peace, Fairness and Love bring huge dividends, CGM

For Miranda Kerr,
I won't ever forget our night together in Paris. Congrats on being chosen the sexist woman alive for 2012. Of course it is 2013 and you probably won't win again. Still, I hope you will always keep this copy of The Wisdom of Beer to remember our special time together.
Kisses, C.M.

Dear General Secretary of the Communist Party, Xi Jinping,
I know you are new to the job. The Chinese invented beer and I've written the first book ever to bring that accomplishment to the world. You should celebrate with pride this gift to mankind by translating The Wisdom of Beer and requiring every party member to purchase a copy. My publisher promises a volume discount for all orders over one million copies. They also offered to put a red cover on the Chinese edition.
Your Comrade in Suds, C. Moore

Jim Carrey,
You've made "The Cable Guy", "Liar Liar" "Dumb and Dumber" and "Me, Myself & Irene" all quite intellectual films. They were too serious for a true comic genius like your good self and these films may have hurt your A-list ranking. Why not try something to showcase your unique humour like starring in The Wisdom of Beer? The Wisdom of Beer film would give your movie career a needed boost. Face it. You need that. Have a beer.
Fellow Canuck, Chris.G.Moore
| | |
| --- | --- |
| Posted: 1/24/2013 7:53:39 PM | |
The first reaction to a threat or a possible threat is one of fear or anger. We are emotional by default and once our feeling and intuitions are engaged, our so-called rational mind's duty is to justify the hot emotion that has us sweating and short of breath. When the State is the one creating fear, the emotions are heightened. Isn't the State supposedly the one to protect us against those who would induce fear?
That is the story the State wishes us to believe. The dividing line between States isn't so much democracy and autocratic but between those States which spin a story of protection against outside fear that most people believe is true. We are at heart, all of us, security seekers. That plays to the advantage of the State as the officials rely on the reality that there isn't an alternative. A revolution merely changes those who operate the State and as history shows the new operators are no different than the ones they replaced—in many cases, they become addicted to terror to cow their rivals into submission.
Criminal laws regulate conduct and are the citizens' first line of defense against the 'wrongful' or 'bad' conduct of others. In reality, many criminal laws authorize the State to protect itself against those who would challenge its authority. Broad and imprecise wording—like 'national security'—allow those who enforce the laws broad powers and substantial penalties to charge, convict, and imprison a person whose activity is thought to be a threat to those in power. The threat of prosecution chills the exercise of free speech—stops political discussion. The State uses such power in the age of Internet access to censor what is sent and received by users.
The State is an intangible entity. We rail against an oppressive or abusive 'State'. These emotional outbursts are like taking a swing at a cloud. You never quite connect your feelings with the object perceived to cause those feelings.
The functionaries and officials who make up the State are many. They interact with each other. Some are more powerful than others, and there is an institutional bias or culture that prevails across those institutions as well as legacy traditions and customs within individual agencies. This makes assigning responsibility difficult. Who do you point the finger at when the State acts to criminalize political speech? Or criminalizes conduct that serves the interest of a small but powerful elite that benefit from a cone of secrecy and immunity from criticism?
In the new Orwellian world—everyone is guilty, and those charged are selected through the exercise of prosecutorial discretion to send a message to all the other potentially guilty citizens that they, too, are being watched and are vulnerable. And there is nothing they can do and no one to turn to.
Placed in the situation of being charged and the realization there was little chance of escape is thought to have led Aaron Swartz to commit suicide in New York. He was a 26-year-old computer genius, co-founder of Reddit, who'd been charged for 'freeing' academic data at M.I.T. Since his death there has been a firestorm of protest, questioning, criticism and hand-wringing.
The best piece written on why writers write is George Orwell's essay On Writing 70 years ago.
Orwell said that the subject matter of a book is determined by the age in which the writer lives.
Context is what matters. Look around your space, inside the room where you are reading this essay, when you go out, look around the city. And think for a moment, it wasn't always like this and won't stay like this. But for the moment, the present, this is our context that determines how we think about books, each other, information, security, politicians, guns, drugs, pollution, women, police, and doctors and hospitals. We think of them in the now.
Commentary like this essay, films, books, comments others make online, are collections of our context where we find: social things, cultural things, psychological and political things. We try to make sense of all these signals, picking through the noise. It is hard work. The noise is always far greater than the signal. With the distractions and limited attention we can bring to anything directly in front of us should give us pause. It should give us a sense of humility. We are overwhelmed by the emotional words of others, the details pile up, the ambiguity increases. We hate doubt. We love certainty. One we avoid, the other we embrace.
Those employed by the State understand this bias. To avoid randomness and uncertainty gives the State actors an edge. Officials promise that they can and will remove the dread of doubt and once removed, we will feel safe and happy. The State understands that we are first and foremost emotional creatures. That insight is the source of their broad, vague powers and discretion.
We filter the justification, defenses, words of State officials as they weave a pattern that shows their actions are lawful, correct and in the interest of the State and its citizens. Orwell taught that writers had a duty to challenge these State manufactured patterns, deconstruct them, and offer original, alternative patterns. You can read volumes of Internet commentary taking this road about the official actions of the State in pursuing Aaron Swartz.
The best writers communicate an essence of insight, meaning and purpose. They distinguish between intuition and rationale, objective evidence. To use Daniel Kahneman's distinction, one is automatic, lazy thinking and the other is slow, deliberate thinking. They are connected. The lattice of biases that we all have ultimately shape and distort the way we think about reality.
The best books embody the way people think and feel. A good novel or short story hits an emotional chord in the reader that seems true.
The best books reflect emotional attitudes as people bumped up against the reality found inside the context where we live. The emotions we find floating above us include: Anger, hostility, envy, suspicion, jealousy, suspicion and deception.
Crime novels embrace these negative emotions and fine-tune them into stories where characters seek to escape their context, their destiny, or their moment in history. No matter how fast you write, the book is much slower than the click of a camera shutter, and even at that speed there is a transformation captured and the reality that follows that moment.
Orwell wrote that authors have four reasons or motives to write:
Sheer egoism. The desire to appear clever, talked about, remembered after death. The great mass of people are far less selfish than writers. Serious authors are vain and self-centered.
Aesthetic enthusiasm. Perception of beauty in the patterns found in the exterior word and converted into prose. The firmness of good prose, the rhythm of a good story that carries you along.
Historical impulse. To see things as they are outside of the filters, biases and prejudices that every context presents as barriers to truth.
Political purpose. To use words to push the world in a certain direction—to shape or alter people's idea of the kind of society we live in and whether that society is fundamentally just and fair.
Psychology has advanced a fifth reason Mindset Exploration to identify the connection between our emotional, impulsive, intuitive mind and our deliberate, rationale mind. To understand the interplay between the two aspects of our cognitive resources that create our system beliefs we defend and define the perimeters of our reality.
Our impulses war against one another and change over time, but our beliefs are difficult to shift even when the evidence is clear that what we believe is false or wrong. The Aaron Swartz suicide and background prosecution has ignited a debate about core beliefs about the role of prosecutorial discretion, freedom of speech, the nature of information, who owns it, has access to it, and can use and exploit it.
Context of Aaron Swartz's death engages at the emotional level when the distrust of State actors and their bona fides are in doubt. His death is used to emotionally confirm our worst fears—the State is patrolling the products of our mind and our actions seeking to find violations of laws. And the question being asked is whose interests are being served in such prosecutions?
In The Orwell Brigade, a dozen authors, including Barbara Nadel, Quentin Bates, and Matt Rees who blog on this site, have joined John Burdett, Colin Cotterill, Ruth Dudley Edwards, Mike Lawson, Ernesto Mallo, and Gary Phillips to reclaim the role of telling truth to authority, to examine abuse of power, and to question the false histories and narratives officials use to justify their decisions and policies. The traditional media have retreated to the safety of entertainment and gossip to turn a profit. We have paid a high price for that retreat. One positive legacy of Aaron Swartz's life is this questioning official exercise of power that once was done by journalists, essayists, and novelists has spawn a thousands, if not millions of voices. It is difficult even for the State to shut down, arrest, and lock up all of these people. I suspect they will lie low, wait for the faint breeze of time to blow away the anger. Once that happens the State, through its officials, will slowly creep back and remind us that without them we will live in a State of Fear.
| | |
| --- | --- |
| Posted: 1/17/2013 7:59:50 PM | |
Everyone author has a muse. Along with painters, composers, dancers, and other performing artists. The muse has a long tradition. The Greeks had many gods and goddesses, but the one writers and artist are most fond of is called the Muse. An artist might be an atheist when it comes to God and religion but the Muse makes the most logical and skeptical of the bunch, into believers as to the intangible forces of creativity and inspiration. Someday when neuroscience decodes consciousness, the neural structure that creates the illusion of the Muse will be discovered. Until that day, we are little ahead of ancient Greece.
The idea of supernatural artistic inspiration had been around long before being co-opted into ancient Greek culture.
The Muses, the personification of knowledge and the arts, especially literature, dance and music, are the nine daughters of Zeus and Mnemosyne (memory personified).
You may recognize the mother, Mnemosyne, as the term 'meme' for that idea that infects the minds of others comes from her name. Mind mental or memory were born from Mnemosyne.

Melpomene
For crime fiction authors, the Muse known as Melpomene was one of the nine daughters and assigned to inspire works of tragedy. Before you set up your home altar next to your computer and call out to your inner Muse, there are a few things to know about Muses—their mother, Melpomene, has a past.
Melpomene is portrayed wearing a tragic mask and the cothurnus, boots traditionally worn by tragic actors. In another version, she holds a knife or club in one hand and the tragic mask in the other. She wears a crown of cypress. Her father was Zeus and her mother Mnemosyne. And if you wanted an inspiration for a lyrical phrase she was the Muse you made offering to.
Words like 'amuse' and 'museum' derive from the original use of Muse. Many ancient writers paid homage to the Muse: Homer, Virgil, Dante, Chaucer, and Shakespeare.
Living in a culture like Thailand where spirits are daily worshipped at small spirit houses scattered throughout the land, and upcountry workers as well as city workers, give offerings; the idea of the Muse is a natural fit. Spirit Houses erected on the premises housing newspapers, publishers, media houses and advertising agencies don't yet display statues of the nine daughters of Zeus and Mnemosyne. But 2013 is young and the meme of Muse hasn't gone viral in Thailand. Finding a Muse to present at Government House and Parliament might 'inspire' if not poetry, some new comedy and tragedy to retire the old tropes people don't find of interest.
I have a theory (or two) about the nature of the Muse. When one of the nine daughters of Mnemosyne and Zeus come to visit, pay attention. What kills creativity is distraction. What ignites the imagination is found through focus and attention that seeks to find a new pattern, a new way of seeing or thinking. That kind of thinking is difficult. It takes lots of resources. You can witness the Muse indirectly when you see a great painting, or theatrical production or read a great book. The result of the best of the arts is the creation of something out of inspiration.
Most of the time, our attention is divided. We have too much on our mind, pulling it this way and the other. We flit from problem to problem, image to image, from the past to the future, like a bird hoping from branch to branch looking for the tree. But the issue isn't limited to the non-stop discontinuous internal mental streaming, we also add to our distraction by the input streaming into our brain from the exterior world. To call on the Muse to visit means a commitment to closing down our random thoughts and to shut out stimulation from the outside world. TV off. Internet off. Phone off. "Do not disturb" sign on the closed door.
Light a candle. Wait for the Muse to deliver the right word, phrase, scene, and image that fit into a narrative flow. That is my other theory about the Muse. It is another way of describing the flow. Musicians, writers, dancers and painters know that space where the notes, words, movements, colors appear as if from another place, and create a narrative force that carries the creator along a path he or she would never have discovered inside a mind cluttered with internal and exterior attention grabbers.
The Flow is the space artists seek to enter and never leave. When I write, I work to find that space because in the Flow all the nine daughters of Zeus and Mnemosyne are manning the oars on a boat that navigates itself around bends, and through rapids, and delivers you to a destination you never would have discovered in a world too full of noise.
| | |
| --- | --- |
| Posted: 1/10/2013 7:56:43 PM | |