| | |
| --- | --- |
| | ABOUT |
| | My website |
| | International Crime Writers Blog |
| | Email me |
| | |
| | |
Blog Archive January 2013
AUTHOR'S DEDICATIONS IN SECOND HAND BOOKS
What does an author do when he sees a secondhand copy of his book in a bookstore? I have been thinking about this having recently seen a secondhand copy of The Wisdom of Beer.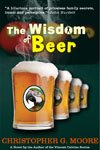 As I can't cover all second hand bookstores, I'd like any reader who finds a copy to feel free to write a dedication in the book on my behalf. I understand that after exhaustive studies, academics have concluded that a book dedicated to a famous person by the author fetches a much higher return on the second hand market.
In a time of bookstore closures worldwide, I'd like to help the bookstore owners increase their revenues. They should encourage customers to form a self-help group to write those special dedications for The Wisdom of Beer (or any other book you might find of mine).
I have a few suggestions for dedications to be inscribed in random, dog-eared copies of The Wisdom of Beer.
I am positive that you will come up with much better material.
The Wisdom of Beer dedication list might include the following:

To my dear friend, Donald Trump,
Thanks for the napkin from A60 Club with your hand-written essay on the Kenyan birth certificate. I am sorry it arrived too late to include the appendix as you suggested. Should The Wisdom of Beer ever be reprinted I will urge the publisher to place it in the new edition.
Former New Yorker, Vincent Calvino

For my personal mentor, Cesar Millan,
Thanks for writing to tell me that The Wisdom of Beer has become the Dog's Whisperer's bible. Sorry your show has been cancelled. But I can't really change the parrot in the book to the Boxer mixed breed. But I appreciate your idea.
Best wishes from me and all of my pack of six, CM

For Lindsay Lohan,
Your probation officer gave asked that I send you The Wisdom of Beer to help keep you out of jail. I am proud to know the book will guide you to a new and better life.
Keep sober, Chris

For Mitt Romney,
You can reject beer or wisdom, but if you throw out both you can't expect the Republics to ever win a majority. Please keep The Wisdom of Beer as an alternative bible to rebuild your shattered life.
Peace, Fairness and Love bring huge dividends, CGM

For Miranda Kerr,
I won't ever forget our night together in Paris. Congrats on being chosen the sexist woman alive for 2012. Of course it is 2013 and you probably won't win again. Still, I hope you will always keep this copy of The Wisdom of Beer to remember our special time together.
Kisses, C.M.

Dear General Secretary of the Communist Party, Xi Jinping,
I know you are new to the job. The Chinese invented beer and I've written the first book ever to bring that accomplishment to the world. You should celebrate with pride this gift to mankind by translating The Wisdom of Beer and requiring every party member to purchase a copy. My publisher promises a volume discount for all orders over one million copies. They also offered to put a red cover on the Chinese edition.
Your Comrade in Suds, C. Moore

Jim Carrey,
You've made "The Cable Guy", "Liar Liar" "Dumb and Dumber" and "Me, Myself & Irene" all quite intellectual films. They were too serious for a true comic genius like your good self and these films may have hurt your A-list ranking. Why not try something to showcase your unique humour like starring in The Wisdom of Beer? The Wisdom of Beer film would give your movie career a needed boost. Face it. You need that. Have a beer.
Fellow Canuck, Chris.G.Moore
| | |
| --- | --- |
| Posted: 1/24/2013 7:53:39 PM | |
The first reaction to a threat or a possible threat is one of fear or anger. We are emotional by default and once our feeling and intuitions are engaged, our so-called rational mind's duty is to justify the hot emotion that has us sweating and short of breath. When the State is the one creating fear, the emotions are heightened. Isn't the State supposedly the one to protect us against those who would induce fear?
That is the story the State wishes us to believe. The dividing line between States isn't so much democracy and autocratic but between those States which spin a story of protection against outside fear that most people believe is true. We are at heart, all of us, security seekers. That plays to the advantage of the State as the officials rely on the reality that there isn't an alternative. A revolution merely changes those who operate the State and as history shows the new operators are no different than the ones they replaced—in many cases, they become addicted to terror to cow their rivals into submission.
Criminal laws regulate conduct and are the citizens' first line of defense against the 'wrongful' or 'bad' conduct of others. In reality, many criminal laws authorize the State to protect itself against those who would challenge its authority. Broad and imprecise wording—like 'national security'—allow those who enforce the laws broad powers and substantial penalties to charge, convict, and imprison a person whose activity is thought to be a threat to those in power. The threat of prosecution chills the exercise of free speech—stops political discussion. The State uses such power in the age of Internet access to censor what is sent and received by users.
The State is an intangible entity. We rail against an oppressive or abusive 'State'. These emotional outbursts are like taking a swing at a cloud. You never quite connect your feelings with the object perceived to cause those feelings.
The functionaries and officials who make up the State are many. They interact with each other. Some are more powerful than others, and there is an institutional bias or culture that prevails across those institutions as well as legacy traditions and customs within individual agencies. This makes assigning responsibility difficult. Who do you point the finger at when the State acts to criminalize political speech? Or criminalizes conduct that serves the interest of a small but powerful elite that benefit from a cone of secrecy and immunity from criticism?
In the new Orwellian world—everyone is guilty, and those charged are selected through the exercise of prosecutorial discretion to send a message to all the other potentially guilty citizens that they, too, are being watched and are vulnerable. And there is nothing they can do and no one to turn to.
Placed in the situation of being charged and the realization there was little chance of escape is thought to have led Aaron Swartz to commit suicide in New York. He was a 26-year-old computer genius, co-founder of Reddit, who'd been charged for 'freeing' academic data at M.I.T. Since his death there has been a firestorm of protest, questioning, criticism and hand-wringing.
The best piece written on why writers write is George Orwell's essay On Writing 70 years ago.
Orwell said that the subject matter of a book is determined by the age in which the writer lives.
Context is what matters. Look around your space, inside the room where you are reading this essay, when you go out, look around the city. And think for a moment, it wasn't always like this and won't stay like this. But for the moment, the present, this is our context that determines how we think about books, each other, information, security, politicians, guns, drugs, pollution, women, police, and doctors and hospitals. We think of them in the now.
Commentary like this essay, films, books, comments others make online, are collections of our context where we find: social things, cultural things, psychological and political things. We try to make sense of all these signals, picking through the noise. It is hard work. The noise is always far greater than the signal. With the distractions and limited attention we can bring to anything directly in front of us should give us pause. It should give us a sense of humility. We are overwhelmed by the emotional words of others, the details pile up, the ambiguity increases. We hate doubt. We love certainty. One we avoid, the other we embrace.
Those employed by the State understand this bias. To avoid randomness and uncertainty gives the State actors an edge. Officials promise that they can and will remove the dread of doubt and once removed, we will feel safe and happy. The State understands that we are first and foremost emotional creatures. That insight is the source of their broad, vague powers and discretion.
We filter the justification, defenses, words of State officials as they weave a pattern that shows their actions are lawful, correct and in the interest of the State and its citizens. Orwell taught that writers had a duty to challenge these State manufactured patterns, deconstruct them, and offer original, alternative patterns. You can read volumes of Internet commentary taking this road about the official actions of the State in pursuing Aaron Swartz.
The best writers communicate an essence of insight, meaning and purpose. They distinguish between intuition and rationale, objective evidence. To use Daniel Kahneman's distinction, one is automatic, lazy thinking and the other is slow, deliberate thinking. They are connected. The lattice of biases that we all have ultimately shape and distort the way we think about reality.
The best books embody the way people think and feel. A good novel or short story hits an emotional chord in the reader that seems true.
The best books reflect emotional attitudes as people bumped up against the reality found inside the context where we live. The emotions we find floating above us include: Anger, hostility, envy, suspicion, jealousy, suspicion and deception.
Crime novels embrace these negative emotions and fine-tune them into stories where characters seek to escape their context, their destiny, or their moment in history. No matter how fast you write, the book is much slower than the click of a camera shutter, and even at that speed there is a transformation captured and the reality that follows that moment.
Orwell wrote that authors have four reasons or motives to write:
Sheer egoism. The desire to appear clever, talked about, remembered after death. The great mass of people are far less selfish than writers. Serious authors are vain and self-centered.
Aesthetic enthusiasm. Perception of beauty in the patterns found in the exterior word and converted into prose. The firmness of good prose, the rhythm of a good story that carries you along.
Historical impulse. To see things as they are outside of the filters, biases and prejudices that every context presents as barriers to truth.
Political purpose. To use words to push the world in a certain direction—to shape or alter people's idea of the kind of society we live in and whether that society is fundamentally just and fair.
Psychology has advanced a fifth reason Mindset Exploration to identify the connection between our emotional, impulsive, intuitive mind and our deliberate, rationale mind. To understand the interplay between the two aspects of our cognitive resources that create our system beliefs we defend and define the perimeters of our reality.
Our impulses war against one another and change over time, but our beliefs are difficult to shift even when the evidence is clear that what we believe is false or wrong. The Aaron Swartz suicide and background prosecution has ignited a debate about core beliefs about the role of prosecutorial discretion, freedom of speech, the nature of information, who owns it, has access to it, and can use and exploit it.
Context of Aaron Swartz's death engages at the emotional level when the distrust of State actors and their bona fides are in doubt. His death is used to emotionally confirm our worst fears—the State is patrolling the products of our mind and our actions seeking to find violations of laws. And the question being asked is whose interests are being served in such prosecutions?
In The Orwell Brigade, a dozen authors, including Barbara Nadel, Quentin Bates, and Matt Rees who blog on this site, have joined John Burdett, Colin Cotterill, Ruth Dudley Edwards, Mike Lawson, Ernesto Mallo, and Gary Phillips to reclaim the role of telling truth to authority, to examine abuse of power, and to question the false histories and narratives officials use to justify their decisions and policies. The traditional media have retreated to the safety of entertainment and gossip to turn a profit. We have paid a high price for that retreat. One positive legacy of Aaron Swartz's life is this questioning official exercise of power that once was done by journalists, essayists, and novelists has spawn a thousands, if not millions of voices. It is difficult even for the State to shut down, arrest, and lock up all of these people. I suspect they will lie low, wait for the faint breeze of time to blow away the anger. Once that happens the State, through its officials, will slowly creep back and remind us that without them we will live in a State of Fear.
| | |
| --- | --- |
| Posted: 1/17/2013 7:59:50 PM | |
Everyone author has a muse. Along with painters, composers, dancers, and other performing artists. The muse has a long tradition. The Greeks had many gods and goddesses, but the one writers and artist are most fond of is called the Muse. An artist might be an atheist when it comes to God and religion but the Muse makes the most logical and skeptical of the bunch, into believers as to the intangible forces of creativity and inspiration. Someday when neuroscience decodes consciousness, the neural structure that creates the illusion of the Muse will be discovered. Until that day, we are little ahead of ancient Greece.
The idea of supernatural artistic inspiration had been around long before being co-opted into ancient Greek culture.
The Muses, the personification of knowledge and the arts, especially literature, dance and music, are the nine daughters of Zeus and Mnemosyne (memory personified).
You may recognize the mother, Mnemosyne, as the term 'meme' for that idea that infects the minds of others comes from her name. Mind mental or memory were born from Mnemosyne.

Melpomene
For crime fiction authors, the Muse known as Melpomene was one of the nine daughters and assigned to inspire works of tragedy. Before you set up your home altar next to your computer and call out to your inner Muse, there are a few things to know about Muses—their mother, Melpomene, has a past.
Melpomene is portrayed wearing a tragic mask and the cothurnus, boots traditionally worn by tragic actors. In another version, she holds a knife or club in one hand and the tragic mask in the other. She wears a crown of cypress. Her father was Zeus and her mother Mnemosyne. And if you wanted an inspiration for a lyrical phrase she was the Muse you made offering to.
Words like 'amuse' and 'museum' derive from the original use of Muse. Many ancient writers paid homage to the Muse: Homer, Virgil, Dante, Chaucer, and Shakespeare.
Living in a culture like Thailand where spirits are daily worshipped at small spirit houses scattered throughout the land, and upcountry workers as well as city workers, give offerings; the idea of the Muse is a natural fit. Spirit Houses erected on the premises housing newspapers, publishers, media houses and advertising agencies don't yet display statues of the nine daughters of Zeus and Mnemosyne. But 2013 is young and the meme of Muse hasn't gone viral in Thailand. Finding a Muse to present at Government House and Parliament might 'inspire' if not poetry, some new comedy and tragedy to retire the old tropes people don't find of interest.
I have a theory (or two) about the nature of the Muse. When one of the nine daughters of Mnemosyne and Zeus come to visit, pay attention. What kills creativity is distraction. What ignites the imagination is found through focus and attention that seeks to find a new pattern, a new way of seeing or thinking. That kind of thinking is difficult. It takes lots of resources. You can witness the Muse indirectly when you see a great painting, or theatrical production or read a great book. The result of the best of the arts is the creation of something out of inspiration.
Most of the time, our attention is divided. We have too much on our mind, pulling it this way and the other. We flit from problem to problem, image to image, from the past to the future, like a bird hoping from branch to branch looking for the tree. But the issue isn't limited to the non-stop discontinuous internal mental streaming, we also add to our distraction by the input streaming into our brain from the exterior world. To call on the Muse to visit means a commitment to closing down our random thoughts and to shut out stimulation from the outside world. TV off. Internet off. Phone off. "Do not disturb" sign on the closed door.
Light a candle. Wait for the Muse to deliver the right word, phrase, scene, and image that fit into a narrative flow. That is my other theory about the Muse. It is another way of describing the flow. Musicians, writers, dancers and painters know that space where the notes, words, movements, colors appear as if from another place, and create a narrative force that carries the creator along a path he or she would never have discovered inside a mind cluttered with internal and exterior attention grabbers.
The Flow is the space artists seek to enter and never leave. When I write, I work to find that space because in the Flow all the nine daughters of Zeus and Mnemosyne are manning the oars on a boat that navigates itself around bends, and through rapids, and delivers you to a destination you never would have discovered in a world too full of noise.
| | |
| --- | --- |
| Posted: 1/10/2013 7:56:43 PM | |
Counterfactuals and Fictional Worlds
What is it about reading a novel that draws us to a story? The standard list would include: the characterization, the voice, the setting, or the suspense and thrills. I'd like to add to the list: the way the story illustrates the psychological state of fear, the choices made under duress of that emotion, and the consequences of the choice made and the choices that weren't made.
Fear elongates as faith in the security and the protection of the authorities erodes. We live in an age of heightened fear. Partially authorities use fear to grab votes, and to curtail civil liberties. We are pushed in two separate directions: distrust of what the authorities can do to protect us and the willingness to allow the authorities to play to our fears for their own benefit.
We are a product of our times, our age and our culture. The occasional book spans time, the age it was written and the cultural distortions in which the author worked. Would George Orwell have written different kinds of books with a different mindset if instead of being a colonial police official in Burma, he had gone to live in Thailand or Singapore or Saigon and worked as a journalist for twenty-five years? Or Graham Greene who traveled extensively, one wonders a counterfactual life where he stayed in Saigon for years. Or if Nelson Algren had been raised on a farm in Kansas rather than Chicago and his father had been the local mayor and his mother the country judge.
I have lived for 25 years in a political system where officials have fewer restraints on the exercise of their power, fewer inquiries, questioning and criticisms–a soft police state. I thought of this, as once again I was on the back of a motorcycle taxi, which was flagged down and stopped by the police at a two-man ambush T-intersection where Soi 16 and Soi Paisinghtoh meet. The police were interested in the driver. I was the person of interest. I got off the back of the motorcycle, showed a copy of my passport. I was physically searched, made to empty my pockets andsubmit to a pat down. Next the cops opened each compartment of backpack, opening the plastic bag containing my freshly used gym clothes. This happened at 1.45 p.m. in the afternoon.
The police questions: "Do you speak Thai?" (Of course not.) "What your name?" (I give my name.) "Where you go?" (Home—one hundred meters from your ambush point.) "What you do in Thailand?" (I am a retired lawyer (never be a writer)). "Where you live?" (I point up the road.) "Show me your wallet." (I show him my wallet.)
Finally one of the cops asked the motorcycle taxi driver if he knew me. The driver gave a reference: "He live in Thailand a long-time." I'd never seen this driver before but he seemed to know who I was. Based on the testimony of the motorcycle driver I was allowed to leave.
There would have been a time where I found such an arbitrary stop, search and questioning unsettling, upsetting and annoying. After third such incident in less in a year, it has become an ordinary feature of life.
Show me your papers. Right out of an old Bogart movie on the tarmac of some remote airport in North Africa. Police roadblocks are small change in the scheme of things. They are a kind of theatre where the actors know the drama is about fear and money and power.
I've learned a thing or two about all three having survived coups, street fighting and violence, and walked through minefields where villagers had erected bamboo huts. I've seen the aftermath of war in Cambodia and Vietnam not long after the guns had gone silent. I know many others who've seen much, much more than me. But I saw enough to learn a couple of lessons about myself. What I am capable to feeling when fear and power and money rollerblade straight for me. I don't like it. I don't like being afraid. But I put myself in a position where that would inevitably happen.
If I'd stayed a law professor at the University of British Columbia, walking the beaches, skiing at Whistler, buying salmon at Granville Island market, my life and what I wrote about would have gone in a different direction. In the multiverse there is a version of me who never left Vancouver and is still teaching law. That version also writes. But I doubt he writes books set in Southeast Asia, or if he does, they would be very different books from the ones I've written.
The stuff of writing that is worth a second read, I believe comes from writers who have felt the bone chilling sound of gunfire, seen ordinary people panic, wounded, suffering, people without jobs, connections, hungry and homeless people. This is where the rubber connects with the road of life. Not in the office towers or exclusive clubs or shopping malls. Those illusions take away the fear that power and money, our natural enemy, should instinctively make us weary. We believe that we can reach out and cuddle the cute lion. The lesson of literature is a warning that anyone who has been in this context never forgets what emotions flood through the mind.
Nelson Algren was a writer I discovered when I was very young, and like Orwell and Koestler had an influence on the kind of books I read (and ultimately wanted to write). Colin Asher has written an insightful essay "Never a Lovely so Real" about Algren:
(Algren) pressed that refrain throughout his life, at every opportunity he found. The formulation that best captures his intention and method is: 'The hard necessity of bringing the judge on the bench down into the dock has been the peculiar responsibility of the writer in all ages of man.' After his first book, Algren never traded in the idea that the poor are purely victims. Sometimes the accused were guilty, he believed, sometimes innocent, either way their perspective deserved consideration.
Algren like Orwell never sentimentalized the poor. He never looked down on them. He understood how money and power circled around them, caging them, controlling and fearing them at the same time.
The book I remember I read when I was fifteen was The Man with the Golden Arm
. Asher nailed that novel in this passage:
If Golden Arm had a purpose, it was to challenge the idea, then congealing into ideology, that an individual's social value is related to his or her wealth. Its message is that lives lived in the twilight hours, after swing shifts, in the shadows of newly erected towers, or beneath the tracks of the El, are as passionate, as meaningful, as funny and pointless, and as much a part of the American story as any.
What was congealing into ideology has long since dried into hard stone. Where is there a place left where social value isn't calculated in terms of wealth and influence? Those who have no wealth are left out of the story of our time. Algren, Orwell, Koestler and Greene threw a literary lifeline to these people. We live in a time where cutting that lifeline is the business of government, and writing has become an entertainment business. Walking away from a secure university professorship was something a foolish fifteen-year-old boy who'd read The Man with the Golden Arm would do; but not a grown man. At any stage, things could have gone very wrong.
But if I'd stayed in my university office, something I needed to see and do and think about would have never come alive. The theory of the multiverse says we are one among an infinite number of universes, and all possibilities are a reality. That's too much like magical thinking for me to take seriously. False comfort is no comfort. Making a choice in this life means taking a hard look at the cards you hold and then making a bet on yourself. If you are a writer, you shuffle the deck, and deal the hand your characters will hold. Every book is a new game of poker.
But before you write that first sentence you must find the interiority of the main characters. I find my characters in the most unlikely places and most of them live off the radar screen for most people. The best characters in novels are the ones society judge as having no value—and that allows us to put society in the dock to judge it. I am drawn to characters who push beyond the rejection society brings to their every day life, and like characters who face the high wall behind which an army of money and power pulls up the drawbridge. I like characters who don't feel sorry because others regard them as worthless, who don't give up, who keep advancing against the forces assembled to destroy them. I like them because they have more natural dignity and grace than any university professor could ever imagine.
| | |
| --- | --- |
| Posted: 1/3/2013 7:58:31 PM | |