| | |
| --- | --- |
| | ABOUT |
| | My website |
| | International Crime Writers Blog |
| | Email me |
| | |
| | |
Blog Archive July 2008
Regulars of the Texas Lonestar Bar in Washington Square gathered to attend funeral services for George Pipas who died in Bangkok last week. George was a fixture in Bangkok expat circles; part of the fabric. At age 84 years old he came to the bar every day for lunch and held court. George had been on Normandy Beach on D-Day; and he'd been to many other places afterwards. He was a genuine character, someone who looked after his friends, and had lived long enough to see major changes in the world. He knew back in December that he had a death sentence. He just got on with his life and never asked for sympathy.

At 9.00 a.m., Catholic funeral services were held at the Church of the Holy Redeemer on Soi Ruam Rudee, and following those services the body was moved to a Buddhist wat for cremation. The local V.FW. Club sent representatives who performed a service for George at the wat.

As a recording of Taps played at the Wat, one could but hear George's voice, in that throaty gurgle of emotion shouting, "Will someone change that goddamn music."

The Risk of Infidelity Index was co-dedicated to George who was both a friend and an inspiration for the Calvino series.


| | |
| --- | --- |
| Posted: 7/28/2008 2:39:16 AM | |
Crime fiction: Around the world in 80 sleuths
The Independent on 22 July ran Jonathan Gibbs list of 80 detectives from around the world (in no apparent order) by city. Cities included are: London, Oxford, Paris, Istanbul, Madrid, Rome, Athens, Berlin, Seattle, San Francisco, Los Angeles, Montreal, Havana, Mexico City, Beijing, and Tokyo. A crime fiction is writer was chosen for each of the cities. I was pleased to see for Bangkok:


"Christopher G Moore has long been a big name in crime for his Vincent Calvino books, based on the exploits of an American private eye in Thailand's seedy underbelly, but they're only now coming out in the UK."

Read 'The Risk of Infidelity Index' (Atlantic)

Full article
| | |
| --- | --- |
| Posted: 7/23/2008 12:08:37 AM | |
PAYIING BACK JACK, the 10th in the Calvino series will be released in Thailand in December 2008 and in 2009 by Atlantic Monthly Press in New York. ASIA HAND will be released by Atlantic Monthly Press in New York in 2010. Meanwhile I am at the early stages of writing Calvino 11 and that explains for the infrequent updating of the blog.
| | |
| --- | --- |
| Posted: 7/21/2008 4:25:34 AM | |
Glad to report that Zero Hour in Phnom Penh has been released in B-Format by Heaven Lake Press has been released. Third in the Vincent Calvino crime series, Zero Hour in Phnom Penh has been translated into Chinese, Japanese, French, German, Thai and Spanish. Zero Hour in Phnom Penh also won the German Critics Award (2004), the Premier Special Director's Award Semana Negra (Spain) (2007)

A Bangkok based private detective, Vincent Calvino, takes a case in Cambodia at the end of the devastating civil war. In the early 1990s, UN peacekeeping forces try to keep the lid on the violence. Gunfire is heard nightly in Phnom Penh, where Vietnamese prostitutes ply their trade among UN peacekeepers from the balcony of the Lido Bar.

Calvino traces a missing farang, through the Russian market, hospitals, nightclubs, news briefings, and UNTAC Headquarters. Calvino's buddy, Colonel Pratt, knows something that Calvino does not: the missing man is connected with a cache of jewels stolen from the Saudi royal family. Calvino discovers that he is not the only one looking for the missing farang and that murderous forces of evil continue to swirl in the alleyways of Phnom Penh.
| | |
| --- | --- |
| Posted: 7/21/2008 4:25:12 AM | |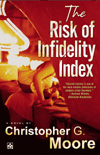 The Evergreen Review's Jim Feast reviewed Risk:

"For writers in the private eye genre, such as Christopher Moore, who take up the traditional form, as he does in The Risk of Infidelity Index, originality is not measured by examining the plot. This never varies. A client hires the gumshoe to investigate a matter, which turns out to be much more complex than it appeared. Neither does it appear in the creation of novel character types, since these, too, are largely invariable and include the heroic but flawed hero, a cop who hounds but also befriends the detective, a treacherous blonde, and so on. The true measure of originality lies in the invention of atmosphere.

By this term, I mean to convey a tonality that combines attention to setting and the details of everyday life as well as the creation of characters who emerge naturally from the milieu.

The fine accomplishment of Moore in this book is to excel in all three areas of atmosphere creation, as I will illustrate in a moment."

http://www.evergreenreview.com/contents.htm
| | |
| --- | --- |
| Posted: 7/21/2008 4:22:55 AM | |
It has been a good month for the Calvino series. My Spanish publisher Ediciones Paidós has released Kicking Boxing en Nirvana. My author copies arrived today. Looking at the covers from various editions, each publisher and their art department have come up with different images.


No, this isn't a new Calvino title. It is the Spanish edition of Spirit House
. In England, Atlantic Books has released a paperback edition of Spirit House.


And In the United States, a paperback edition of Spirit House
will also be released by Grove/Atlantic in August 2008. The month of August will see Amazon offering Spirit House as a free download for the Kindle. If you've not read Spirit House
and own a Kindle, this is a good chance to download a free copy.


The Risk of Infidelity Index
will come out in Italian later this year and in Spanish in 2009. The English trade paperback edition of Risk has been receiving favourable attention in the UK press.

"The Risk of Infidelity Index
(Atlantic, £10.99) is the first (there are nine in total) of Christopher G. Moore's humorous and intelligent Vincent Calvino novels to be published in the UK. Calvino is an engaging Bangkok P.I. who thinks he is about to smash a major Thai drug piracy ring when things start going pearshaped. It's a great introduction to the seamy side of Bangkok where the author has lived for 20 years." –The Daily Mail (July 2008)

"There's plenty of violent action and some memorable low-life characters, but the real star of the book is Bangkok, which Moore, a long-term resident of the city, brings to vibrant, sleazy life." The Telegraph (June 2008)

And a week later also appearing in The Telegraph, "A vividly observed Bangkok" was selected as one of 50 best books for summer reading.

"The Risk of Infidelity Index
is a complex, violent, and high readable thriller." –One80 News (UK)
| | |
| --- | --- |
| Posted: 7/10/2008 12:53:57 AM | |
Status Quo Bias in Fiction
In cognitive science there is the notion of status quo bias, meaning people like things they way they are and rarely welcome change. This bias is often written about in the context of political science and economics. But it is rarely discussed as such in the world of novels, publishing and literature. It is hardly a stretch to find that status quo bias applies to fictional worlds. Readers, critics, and editors may complain that a character has through actions or thought departed from what he or she did in previous books. We expect the character to remain the same, and knowledge of this collective bias can influence the decisions made by an author in the kind of future books he or she will write.

If you write a series with continuing characters (such as the Vincent Calvino crime series), then you know that readers soon develop a bias for characters acting, feeling, and expressing themselves in familiar ways. Anyone writing novels would do well to learn the basic ideas behind the Endowment Effect, Loss Aversion and status quo bias.

Sometimes these ideas are buried or kept out of sight because we labor under influence that characters in the best novels evolve during the course of the book. While that evolution indeed is admirable as far as it goes but it often ignores a fundamental need that readers have for characters (in a series) that are unchangeable. That is the balancing act required of a novelist who writes a continuing series. Or a politician who wishes to be re-elected. To make readers (or voters) comfortable with change, that they will gain something more valuable in return. A good author can defeat the status quo bias but the burden is on him or her to make a good case for the divergence from the status quo.

Subjective judgments are as important as strict logic. A point made by Professor Bostrom about status quo bias in the debate about cognitive enhancing drugs. In the context of a novel, the personal decisions a character makes and the social networks from which he or she plays and work, more often than not reinforce pre-existing biases. If you believe that Bangkok is semi-jungle environment with elephants as the primary mode of transportation, then you won't appreciate having your bias challenged by a noir novel set in a modern urban setting. But if you are open minded and understand that such bias impairs rather than enhances judgment, you will seek out novels that allow your biases to be challenged. The large number of crime novels set in foreign locations indicates a large number of readers who are willing to accept the challenge to their biases.

Though critics such as Clive James have said such books are essentially "guide books" without any enduring literary value. In his New Yorker article, he put his cards on the table:

"As a form for real writers, the detective novel is bound to be a dry well in the end, because a detective novel, no matter how memorable in the detail, is written to be forgotten."
A perfectly executed status quo bias example.

Bias is the twin of irrationality. It exists below the surface, often unconsciously informing our decisions and judgments. If a literary author writes crime fiction or science fiction, critical eyebrows are raised like a chorus line of high as a Rockette's kicks.

Most places one looks in the world of books there are examples of status quo bias. Sometimes, as in the case of Clive James, dismissed altogether in the junkyard of forgotten. We all suffer from status quo bias one way or another. But understanding that this is an essential part of the human condition makes it easier to accept that when it happens to us, don't take it personally. And instead take hope from such writers as Colin Cotterill, Matt Beynon Rees, Donna Leon, and Michael Dibdin. who have challenged our bias about exotic lands. Don't pay into the bias they are writing another line of Lonely Planet guidebooks.
| | |
| --- | --- |
| Posted: 7/8/2008 5:08:11 AM | |